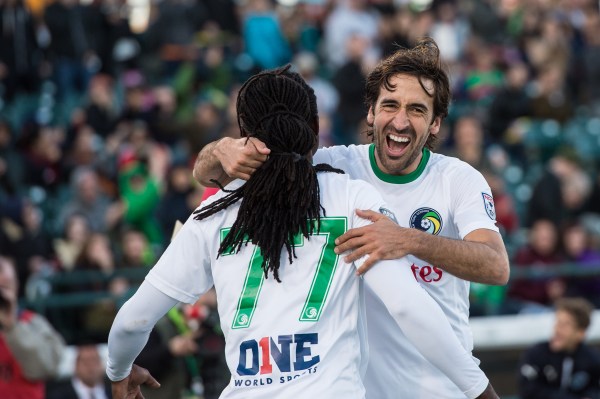 Photo by New York Cosmos
By RYAN TOLMICH
Down a goal in stoppage time, the New York Cosmos looked destined to see their undefeated record finally dented with a loss. Yet, thanks to an aggressive second half and the late heroics of Raul, undefeated is exactly how the Cosmos remain.
Raul's extra-time winner was enough for the Cosmos to snag a 1-1 draw to preserve their unblemished record, but, more importantly, keep a rapidly charging Minnesota United team at bay as the Spring Season race reaches its final leg.
"We had a much better second half than the first," said New York Cosmos head coach Giovani Savarese. "We dominated the second half mostly because of the attitude that we showed. In the second half, we were a little bit more aggressive, pressed a little higher and we pushed Minnesota back. We were able to attack the spaces in order to create better situations.
"We're coming off a tie against a team that we knew was going to give us a big challenge today, but we're pleased to get a point. More-so that we were able to take away two points from Minnesota."
Sunday's draw represents the second time this season that Cosmos were forced to mount a comeback. In a May 16 clash with the Carolina RailHawks, the Cosmos benefited from two extra-time goals to snag another late draw.
For Savarese, that fact is very telling. Although he would have preferred to avoid another comeback, the Cosmos coach believes Saturday night's result is just another example that his team has the mentality to match its talent.
"When a team believes all the way until the end," Savarese said, "to be able to get back into the game and be able to execute, it shows that we have a very strong group mentally and doing it twice, I don't think it's a coincidence.
"Our hard work is believed in, and we never give up. I'm very proud of the guys for the effort that they put in, but given that we had a good second half, we could have had a better first half. We could have controlled the game a little bit better. I think, at the end of the day it was a fair result."
With the team now facing a trip to Cuba before it's Spring Season finale on June 13, Savarese now believes that his Cosmos are starting to play the way he has envisioned.
Unbeaten with just a single game remaining in the schedule, and on the precipice of a Spring crown, Savarese says it's not the record that is important at this stage; it's the continued improvement and movement towards fully embracing the team's style.
"I would say that we're starting to be able to do so," Savarese said when asked how close his team is to his visions. "There are other times where we don't execute exactly the way we wish. We have our style of play with things, our philosophy with things, and we're able to show it through all the games that we play. We showed it today: the mobility, the possession, the ability to find different ways to attack. Sometimes the movement is very, very good and some games could be a little bit better.
"As we always say, this is week to week, and we'll keep on working, but I'm very content with the effort that the guys put in to keep on getting good results."