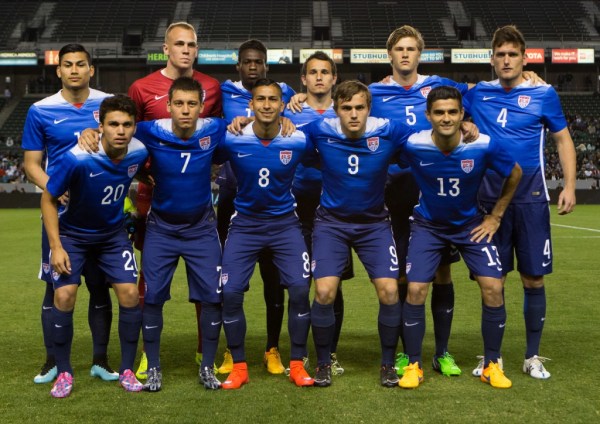 By RYAN TOLMICH
The U.S. U-23 Men's National Team's first taste of the 2015 Toulon Tournament turned out to be a bitter one.
Undone by a trio of goals in 11 minutes, the U.S. was thoroughly defeated by France, 3-1, in the first game of the Toulon Tournament group stage. Stanford forward Jordan Morris scored the lone goal for the U.S. in the second half.
The lone bright spot for the U.S. was Morris' second-half finish, who darted past the France defense in the 66th minute before tapping a shot to the backpost to push the scoreline to 3-1.
France's dominance was apparent from the opening whistle, culminating in back-to-back goals from Fares Bahlouli and Enzo Crivelli just one minute apart.
Bahlouli's opener saw France take full advantage of a string of sloppy play from the U.S., kickstarted by a Dan Metzger turnover in the midfield. On the attack, U.S. goalkeeper Cody Cropper was forced into a save, but the defense's inability to clear their lines saw Bahlouli place a shot just past the fingertips of Cropper, giving France a 1-0 lead.
The lead was doubled just a minute later through Crivelli, who pounced on another rebound with a close range header to double the lead.
Just 10 minutes later, France struck again through Stéphane Sparagna. On a France free kick, the Marseille defender provided a flicked-on finish from close range for France's third goal of the afternoon.
Morris' finish highlighted what turned out to be a sloppy afternoon for the U.S., who was repeatedly overrun in the midfield and defense.
The U.S. did have their chances come via set-piece, though, but failed to take full advantage due to a series of poor deliveries from both Julian Green and Benji Joya.
Following the tournament-opening loss, the U.S. will look to rebound on Friday in a matchup against the Netherlands, who topped Costa Rica, 3-2, earlier today.