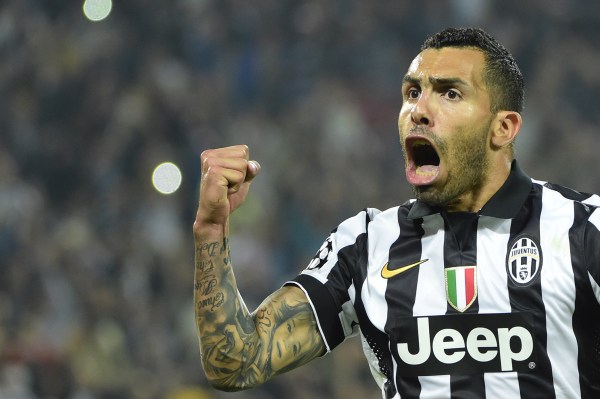 By COLE KELLOGG
Juventus hadn't played in the semifinals of the UEFA Champions League in a dozen years, but you couldn't tell on Tuesday.
The Italian champions jumped all over Real Madrid in the early going of their first-leg clash in Turin, and Carlos Tevez helped them capitalize, setting up a first-half Alvaro Morata goal before converting a second-half penalty he helped draw as Juventus posted a 2-1 victory.
Morata opened the scoring against his former club early in the match as he tapped home a hard-driven ball from Carlos Tevez that Iker Casillas could only get finger tips on before it found Morata wide open on the back post.
Just before the half-hour mark, the visitors got on the board through a combination from James Rodriguez and Ronaldo. The Colombian volleyed in a cross from the right side of the box and the Ballon D'Or winner scored the free header from inside six yards. The goal was Ronaldo's 76th in UEFA Champions League play, the career record.
Juventus had the majority of the  attacking play early on in the first half, with Tevez leading the way against a shaky Real Madrid defense.
Martin Atkinson awarded a penalty to Juventus in the 56th minute of play after Daniel Carvajal fouled Tevez in the penalty area. The Argentine put the resulting penalty past Madrid captain Iker Casillas.
The Italians reverted to a back 3 around the hour mark, replacing Stefano Sturaro with centerback Andrea Barzagli.  Minutes later, Chiellini got horribly bloodied up after taking an elbow to the face. The Italian defender had to come off temporarily for a new uniform.
Three minutes from time, it looked as if Roberto Pereyra would make an immediate impact on the match for Juventus. Fernando Llorente found his way around the Madrid defense and goalkeeper, but his ball to the center of the box couldn't get to Pereyra.
A Pirlo free kick in stoppage time led to the last real chance of the match. Casillas was positioned well, though, and was able to get to the header from Llorente.