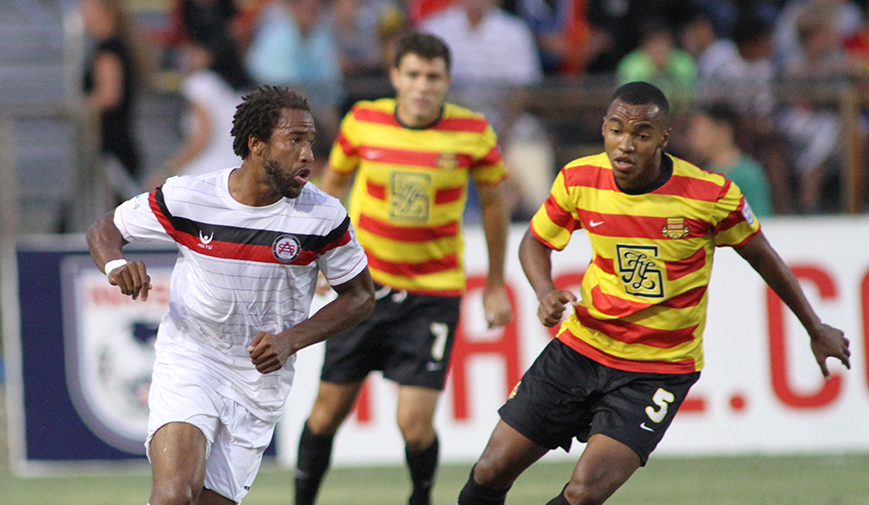 Photo by Fort Lauderdale Strikers
By ADAM TROXTELL
The Atlanta Silverbacks exited their game against Fort Lauderdale Strikers with a point on Saturday, thanks in big part to Steward Ceus.
Ceus' four saves preserved the shut-out on a night when the Strikers looked slightly better in attack. The result leaves the teams locked on seven points each in the middle of the NASL spring season table.
The Silverbacks defense pitched in with two blocked shots to keep the Strikers quiet in front of a home crowd. While they produced six shots of their own, two on target, it was difficult to look dangerous in a conservatively played game.
The Strikers started on the front foot to nearly steal an early lead. Dani Sanchez had his big chance saved by Ceus, who ended up having a busy night.
He was called on again in the 24th minute, just before things started to slow down for the first half. The Silverbacks offered a few attempts in response, but the activity was clearly busier in front of their own goal.
Ceus again was asked to preserve the shutout in the 71st minute when Stefano Pinho hit a shot first time from a long cross. It was saved off the line by a combination of Ceus and the Silverbacks defense.
The Strikers take a bye week next, while the Silverbacks remain on the road to take on Minnesota United next Saturday.