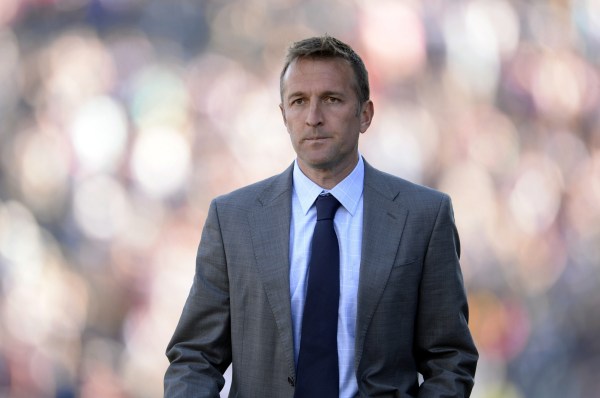 Photo by Ron Chenoy/USA Today Sports
By RYAN TOLMICH
Since assuming the role of Real Salt Lake head coach in 2007, success hasn't been too hard to come by for Jason Kreis. Having led RSL to an MLS Cup in 2009, Kreis has reached the pinnacle of MLS success while becoming the youngest head coach in history to claim an MLS crown.
However, despite all of his previous successes, positives have been hard to come by in Kreis' first handful of games in charge of NYCFC.
Through the first nine games of the club's inaugural season, NYCFC have collected just six points, opening Kreis' eyes to just how difficult it is to build a team from scratch in the current MLS landscape.
"Not well," Kreis said when asked how he's handling the team's slow start. "It just doesn't sit well with me. I guess I didn't realize it would be this difficult. Maybe I forgot how hard it is to build a team in this league and have success on a continuous basis, a consistent basis.
"A lot of sleepless nights now to think of ways to get this team to improve, to stay positive, because if you think there are a lot of positive things to look to, and to have some patience, and that's probably my biggest downfall in my character is that I have very little patience."
Having scored just four goals in as many home games, Kreis understands that the same patience he must now embrace is already being demonstrated by the team's fans.
Stationed in the ever-shifting New York Market, Kreis admits that he has been boosted by the team's fans, who have seemingly stayed aboard to this point despite the initial choppy waters.
"I think we certainly will look to improve, but I think it's one of the things that really keeps me up at night," Kreis said, "because I think these fans deserve a little bit more and a little bit better, and I'd like to be able to give that to them right now, but hopefully they will stay patient as I will try to, and we'll look to continue to improve."
While Kreis' familiarity with the league has made the initial difficulties all the more frustrating, newcomer Mix Diskerud was expecting an adaptation period for both his and his team's first MLS campaign.
Despite the struggles, Diskerud is looking to remain positive while still being realistic. Winning as an expansion team is far from an easy task, Diskerud says, but luckily for NYCFC, the team will have the chance to wade through the difficulties in a different way than clubs around the world.
"A lot of people told me that it's not always easy with expansion teams and that it takes time to settle and build a team," Diskerud said. "I feel like we are playing a lot of good soccer, but of course at times it's going to be ups and downs. I still don't want to know how it's going with the form of expansion teams, but there's no relegation."
Diskerud remains one of many NYCFC players that continues to preach positivity, as almost three quarters of the season remains for the club to work out the kinks.
Those kinks can be worked out as soon as next week in a matchup with the rival Red Bulls, a game that Kreis says will feature an NYCFC side that is as self-confident and positive as it's been all season.
"The interesting thing is that I think this team still believes in themselves, and they should," Kreis said. "As I've said, it's not like we've walked into any game and been completely outplayed or outclassed. We've been in every game, we've had chances to score in every game and we've been right in and around it.
"It hasn't been like we've come into one game and looked like the guys completely didn't believe in themselves, so I would expect the very same thing next week."