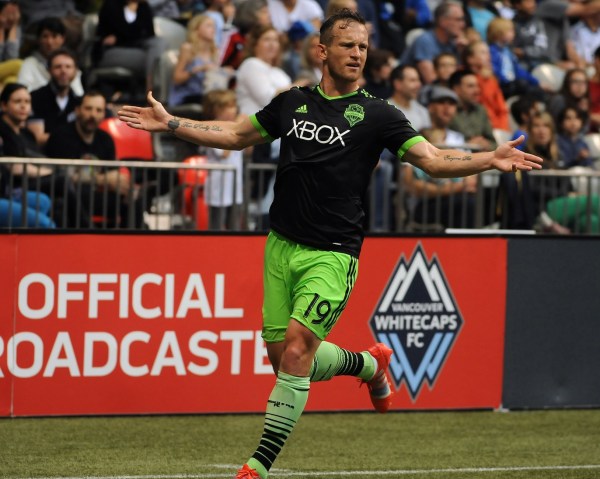 Photo by Anne-Marie Sorvin/USA TODAY Sports
By RYAN TOLMICH
Despite the absence of the always-threatening Obafemi Martins, the Seattle Sounders attack didn't skip a beat.
Chad Barrett filled in admirably in the Nigerian's place, providing a brace to lead the Sounders to a 2-0 victory over the Vancouver Whitecaps at BC Place.
The victory proved to be the Sounders' first over their Cascadia rivals in their last five meetings.
Barrett opened up his account in rapid fashion, pushing the Sounders into the lead in just the fifth minute. Played through on a ball from Clint Dempsey, Barrett darted through the Whitecaps defense before dinking a chipped shot over a rushing David Ousted, giving the Sounders a 1-0 lead.
With the assist, Dempsey has now assisted or scored in ten straight games to open the 2015 MLS campaign.
Barrett doubled that lead in the 38th minute, once again besting the Whitecaps' backline. The Sounders forward was the recipient of a Marco Pappa pass over the top, prompting Barrett to hit a first time, left-footed volley past Ousted to earn a two-goal advantage.
The two-goal lead proved to be more than enough for the Sounders, who saw goalkeeper Stefan Frei provide five saves on the evening.
With the victory, the Sounders collect the team's 19th point through 10 games, one behind the Whitecaps, who have played two additional matches.
The Sounders, who have now won four of five games,  will look to continue their winning ways against Sporting KC on May 23, while the Whitecaps are afforded the opportunity to bounce back that same day with a visit to the Colorado Rapids.