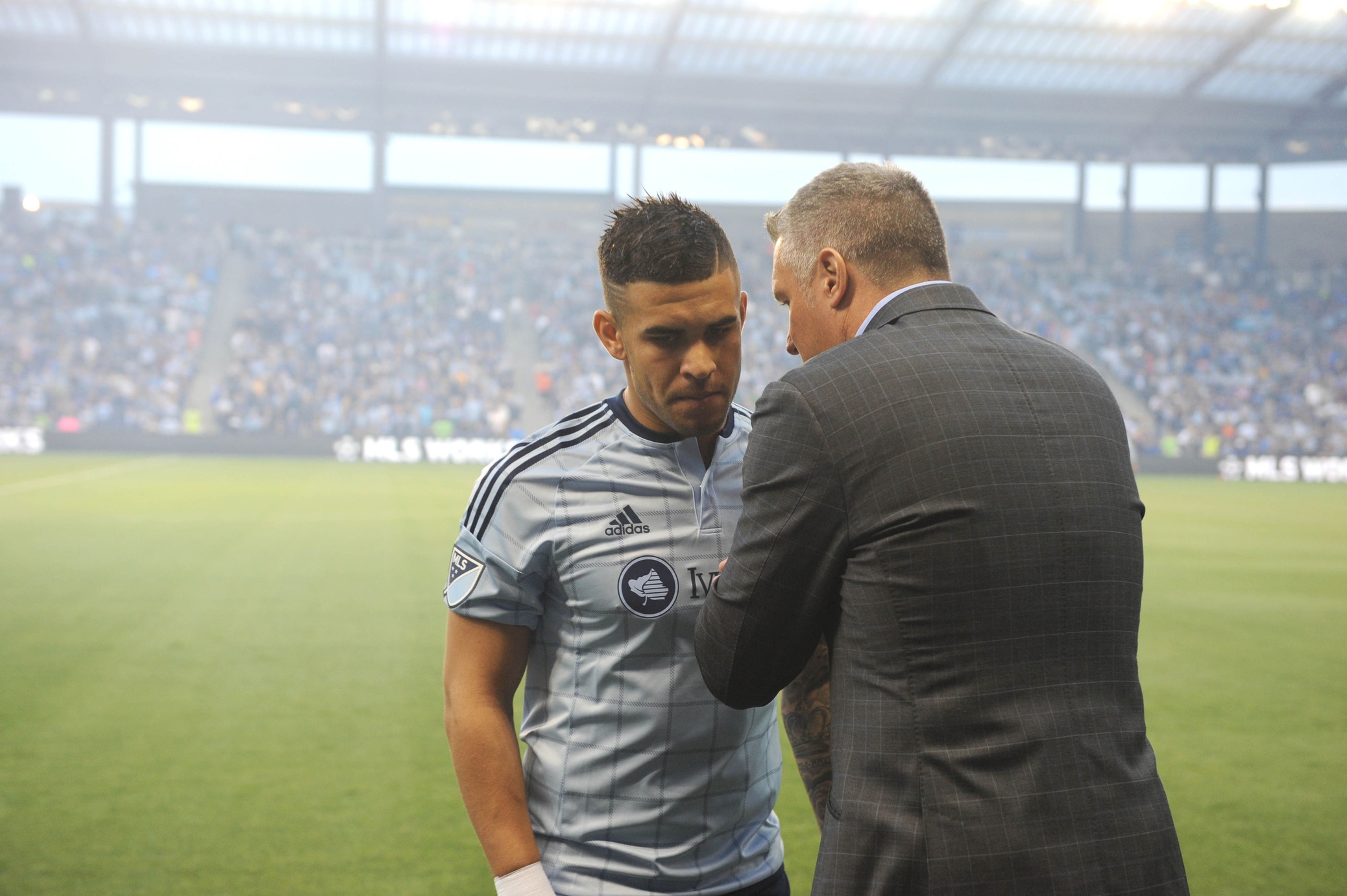 Photo by John Rieger / USA Today Sports Images
By TATE STEINLAGE 
KANSAS CITY, Kan. – Dom Dwyer positioned himself just outside the six-yard box, awaiting what would be a game-salvaging goal against D.C. United. He rotated his body slightly, kept his eyes down and hit the ball with confidence.
Dwyer's teammate, Paulo Nagamura, witnessed the goal from afar, sidelined with a lower back strain.
A week earlier at home against the Chicago Fire, the roles were slightly reversed. Dwyer lie face first on the pitch after missing an open header; Nagamura's 5-foot-8-inch frame skied in the air for a game-winning header.
Despite the differences between Dwyer and Nagamura — one is a 24-year-old starter and the other a veteran who has had to adjust to coming off the bench this season — both goals were significant. Both players have struggled this season but have also earned the respect of their teammates and coaches for pushing onward in training and games.
"I got a soft spot for Naga (Nagamura)," Sporting Kansas City manager Peter Vermes said after his team's 1-0 win against the Fire. "He's a winner to me. He's a guy that when I became the head coach, the next year I went after him. When I was the technical director here, I was trying to get him years before. He was just a guy I couldn't get.
"I think he's got an incredible winning mentality. He's a fantastic professional. He's a good leader within the guys, and all the guys respect him. I never doubt that he's going to come into the game and give everything he has."
The following question for Vermes, the one about Dwyer and struggling to find the back of the net, came with a similar answer.
"Every time he doesn't score, the question's going to come out, 'Is he getting in form? Is he getting close?' You can ask a lot of questions," Vermes said. "The one thing I like about Dom is that there are a lot of guys who play up front, goal-scoring-type players, who, when they start to maybe not score goals here and there, they stop running into the positions that are the difficult ones to score.
"He (Dwyer) still maintains trying to get there. He's always putting himself in those positions. I like the courage that he has, and as long as he keeps that up and keeps working, he'll get his goals. There's no doubt about it."
Dwyer has been scoring at a slower rate than 2014 when he finished with a club-record 22 goals. Through 10 games this season, the forward has three goals. He had seven by 10 games in 2014.
Meanwhile, Nagamura has been fighting for playing time. When the club re-signed Roger Espinoza this offseason to pair with Benny Feilhaber, Nagamura was the odd man out. The Brazilian has started just three games this season and has been fighting injuries since preseason.
Lack of scoring or lack of playing time hasn't impacted either player's attitude, though. In fact, their resolve has only reinforced the respect of their teammates.
"That's who he is," Sporting KC captain Matt Besler said when asked about Nagamura. "Personally, I have so much respect for that guy. He shows up and he puts it (effort) in every day. Even when things aren't going as well as he probably would like right now, he holds his head high and buys in to the team.
"I look up to Paulo. I would encourage anyone else to look up to Paulo as well. If you're a young guy, he's a guy that you can learn a lot from."
And like Nagamura, Besler adds that Dwyer provides more than just goals.
"Dom does so many other things for our team," Besler said. "He busts it every second of the match. No one is going to question that. I'm hoping things will turn around. And who knows, maybe in a couple weeks we're talking like he can't stop scoring. That's how it is with forwards."
Dwyer's 45th-minute effort against D.C. United last weekend may indicate that Besler is on to something.
——-
What do you think about Dwyer and Nagamura this season? How big is the duo for Sporting KC on and off the field?
Share your comments below.