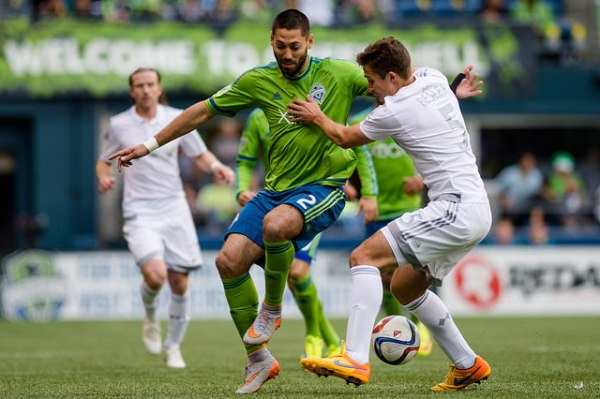 Photo by Jane Gershovich
By JASON MITCHELL
SEATTLE– Shorthanded, tired, and far from home, Sporting Kansas City still found a way to earn a point on Saturday night.
Fielding a makeshift lineup in one of the toughest venues in MLS, Kansas City held the Seattle Sounders to a single shot on target, leaving the Emerald City with a scoreless draw in front of 40,653 at CenturyLink Field.
Benny Feilhaber nearly gave Kansas City a stoppage-time win, forcing Seattle goalkeeper Stefan Frei into a diving save in the 93rd minute.
An unusually listless Seattle attack — missing striker Obafemi Martins for the second straight match — couldn't muster a shot on goal until the 82nd minute, when Chad Barrett redirected a Brad Evans over-the-head shot directly to goalkeeper Tim Melia.
Lamar Neagle earned the first good look of the match in the 46th minute, but hooked a wide-open shot well wide of the right post.
Starting forward Dom Dwyer, who scored 22 goals for for Kansas City last season, injured his neck in warmups and sat out the game. Head coach Peter Vermes called the decision precautionary and said his 24-year-old striker would return next week, "unless something crazy happens."
Decimated by injuries, Sporting KC was already without three starting defenders and lost starter Jacob Peterson to a leg injury early in the second half.
Coming off a midweek victory over the New England Revolution, Kansas City was also playing on just two days rest.
Despite not seeing much of the ball, Kansas City began to threaten on the counter early in the second half. Peterson missed a golden chance to put his team up in the 51st minute, sending a point-blank header directly to Frei. Five minutes later Jimmy Medranda rifled an open shot from outside the penalty area past the left post.
The Sounders came into the match with a 7-1-1 all-time record against Kansas City, scoring six stoppage-time goals in the process. But despite winning five of their last six matches, there was no magic for the Sounders (6-3-2, 20 points) on Saturday.
"Obviously, we are disappointed with the tie at home," said Sounders head coach Sigi Schmid. "We always want to win when we are at home. I thought we had more possession — they certainly played deeper. Right from the beginning of the game they were trying to kill the game when they were taking 25, 30 seconds for every goal kick."
Sporting Kansas City (4-2-6, 18 points), known for pressing at home but more than willing to bunker on the road, conceded possession throughout the first half, allowing a handful of half-chances without giving up a shot on goal.
"We always come in trying to get three points," Feilhaber said after the match, "but at the same time you want to play the right way and tactically we wanted to try and counter on them and keep it tight in the back, and I think we had some chances to potentially nick that 1-0 win. Having said that, I think we did a pretty good job with what we had planned and we are satisfied with a point."
Looking forward, the Sounders host the Colorado Rapids (1-2-7, 10 points) on Wednesday, while Sporting KC hosts FC Dallas (6-2-3, 21 points) next weekend.