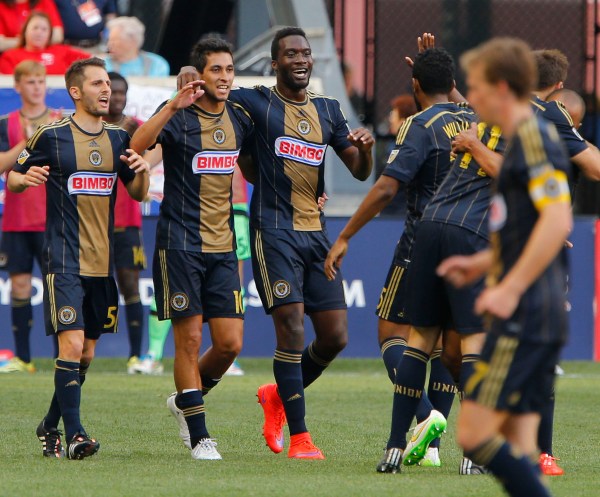 By MATT STYPULKOSKI
HARRISON, N.J. – In a matter of two matches, the Philadelphia Union managed to match what it had accomplished through the season's first 11.
After starting the season with a dreadful six points from 11 matches, the Union have taken just as many points from the last two – Sunday night's 2-0 victory against the New York Red Bulls followed on the heels of a 1-0 win over D.C. United last week.
"It's a funny league and it's certainly a funny conference," Union head coach Jim Curtin said. "I talked all week to my guys about our season could go one of two ways in this building tonight. We're either one win less than (the Red Bulls) or we're getting separated and left in the dust."
Indeed, the back-to-back wins have quickly pushed the Union up the table and into a tie for sixth place, though they still sit just below the Eastern Conference's red line on goal difference, pending the result of Orlando City's match Sunday night.
While Curtin openly admits that it's still far too early in the season – and the Union's run of good form – to talk about the playoffs, the recent success has certainly helped the club rescue its confidence that had been shaken in the opening weeks.
"We put in a lot of work up until now and obviously our results and our place in the standings didn't really reflect that," forward C.J. Sapong said. "I think everybody on the team has felt that and from that, I think we've turned around our mentality and that's the biggest thing.
"We have the talent and we have the right guys in the right places. It's just about the mentality – we're finding it and I think we can build on it."
Though Sapong may be happy with his team's change between the ears, realistically, the Union haven't quite have all of the guys in their preferred spots during the two victories.
Striker Fernando Aristeguieta – who leads the team with three goals – has missed both matches while training with the Venezuelan National Team. In addition, both Maurice Edu and Ray Gaddis were unavailable on Sunday.
But considering the results that have come in the interim, those absences are being viewed as a positive within the Union locker room – mostly because they're all expected to be short-lived.
After failing to make his country's Copa America side, Aristeguieta is on the precipice of rejoining the team. Gaddis, meanwhile, is ahead of schedule in his recovery from a sprained ankle and could be back as soon as next weekend. And Edu's suspension – due to yellow-card accumulation – has now been served.
"It's going to set up a great dynamic in training," Sapong said. "Guys are going to be competing, knowing there's a possibility they can get a chance. That's going to push the guys that get a lot of opportunities. So overall it's a great situation for us to be in, we just have to ride the wave and keep running with the momentum."
That ride brings the Union to RFK Stadium next weekend, where a rematch with league-leaders D.C. United looms.
"We can feel good about it for about a night," Curtin said, "and then we have to start thinking about playing the No. 1 team in the league again, at their place, pissed off because we beat them last time."
Though next week's task is certainly not easy, it does provide the Union with another opportunity to make up ground. And another Union result could also make for a statement – both to themselves and the rest of the league.
"We have to put together a run of five or six games. That's when you know the sign of a true good team," Curtin said.