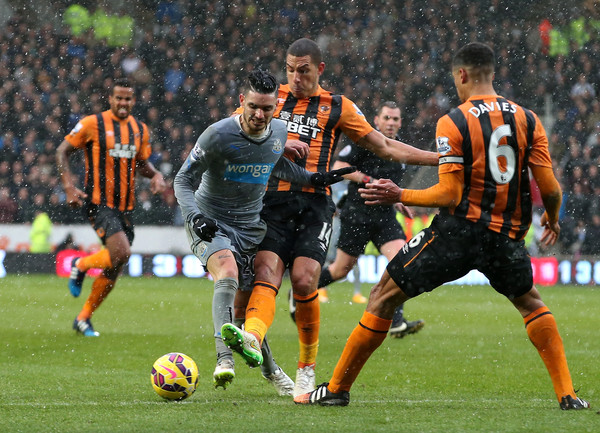 By RYAN TOLMICH
With titles decided in Europe's major leagues, this weekend's events center around relegation battles.
In England, one of Newcastle or Hull City will see relegation to the Championship, but the former enter as the more likely to survive. A Newcastle win over West Ham would ensure safety, as would a Hull City draw or loss to Manchester United. As it stands, Newcastle maintains a two point advantage but has a seven-goal deficit in goal differential.
La Liga sees battles both at the top of the table and the bottom, as Valencia and Sevilla compete for the league's fourth and final Champions League spot with just one point between them. Meanwhile, relegation has four potential contenders, with Granada, Deportivo, Eibar and Almeria all fighting to avoid the final two spots.
On a more positive note, Liga MX's Liguilla semifinals are set for Friday with Chivas de Guadalajara taking on Santos Laguna while Queretaro faces Pachuca. Finally, both MLS and NASL boast full slates of action.
Here is this weekend's soccer on TV (schedule after the jump):
FRIDAY
8 p.m. – Univision Deportes – Columbus Crew vs. Chicago Fire
10 p.m. – Univision Deportes LA Galaxy vs. Houston Dynamo
SATURDAY
10:30 a.m. – beIN Sports Connect – Levante vs. Elche
12:00 p.m. – bein Sports Connect – Juventus vs. Napoli
12:30 p.m. – bein Sports Connect – Almeria vs. Valencia
12:30 p.m. – bein Sports Connect – Athletic Bilbao vs. Villareal
12:30 p.m. – bein Sports Connect – Malaga vs. Sevilla
12:30 p.m. – bein Sports Connect – Celta Vigo vs. Espanyol
12:30 p.m. – bein Sports Connect – Rayo Vallecano vs. Real Sociedad
12:30 p.m. – bein Sports Connect – Granada vs. Atletico Madrid
12:30 p.m. – bein Sports Connect – Eibar vs. Cordoba
12:30 p.m. – beIN Sports USA – Barcelona vs. Deportivo
1 p.m. – Univision Deportes – Rio Ave vs. Sporting CP
2:30 p.m – beIN Sports en Espanol – Real Madrid vs. Getafe
3 p.m. – ESPN 3 – Ottawa Fury vs. Indy Eleven
3 p.m. – beIN Sports USA – Paris Saint-Germain vs. Reims
5 p.m. – MLS Live – Toronto FC vs. Portland Timbers
5:30 p.m. – GOLTV USA – Vasco da Gama vs. Internacional
7 p.m. – ESPN 3 – New York Cosmos vs. San Antonio Scorpions
7:30 p.m. – ESPN 3 – Fort Lauderdale Strikers vs. Carolina RailHawks
7:30 p.m. – MLS Live – New England Revolution vs. D.C. United
8 p.m. – MLS Live – Montreal Impact vs. FC Dallas
8 p.m. – ESPN 3 – Minnesota United vs. Jacksonville Armada
9 p.m. – MLS Live – Colorado Rapids vs. Vancouver Whitecaps
10 p.m. – MLS Live – Seattle Sounders vs. Sporting KC
10 p.m. – MLS Live – Real Salt Lake vs. New York City FC
SUNDAY
7: 30 a.m. – Fox Soccer 2G0 – Celtic vs. Inverness
10 a.m. – Esquire Network – Aston Villa vs. Burnley
10 a.m. – E! – Crystal Palace vs. Swansea City
10 a.m. – CNBC – Everton vs. Tottenham
10 a.m. – Oxygen – Leicester vs. QPR
10 a.m. – Bravo – Arsenal vs. West Brom
10 a.m. – MSNBC – Manchester City vs. Southampton
10 a.m. – NBC – Hull City vs. Manchester United
10 a.m. – USA – Newcastle vs. West Ham
10 a.m. – SyFy – Stoke City vs. Liverpool
10 a.m. – NBCSN – Chelsea vs. Sunderland
2:45 p.m. – beIN Sports USA – AC Milan vs. Torino
3 p.m. – ESPN Deportes – Fluminense vs. Corinthians
4 p.m. – ESPN 3 – FC Edmonton vs. Atlanta Silverbacks
5 p.m. – Fox Sports 1 – New York Red Bulls vs. Philadelphia Union
7 p.m. – Fox Sports 1 – San Jose Earthquakes vs. Orlando City
8 p.m. – Univision – Chivas de Guadalajara vs. Santos Laguna
10 p.m. – ESPN Deportes – Queretaro vs. Pachuca