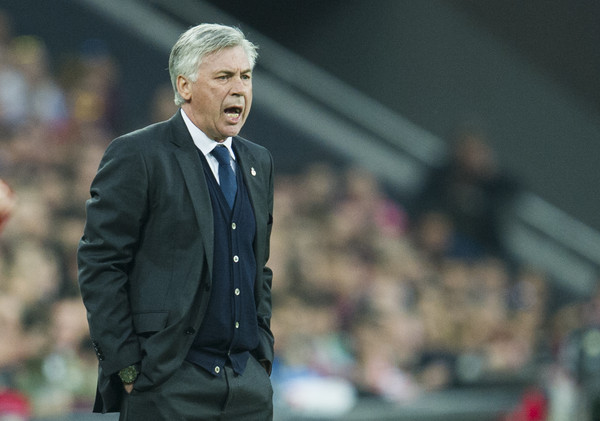 By DAN KARELL
Conventional wisdom may point to an early exit for Real Madrid manager Carlo Ancelotti, but the Italian himself hopes he can remain in the job.
In the minutes following Real Madrid's ouster from the UEFA Champions League, falling 3-2 on aggregate to Juventus with a 2-1 defeat at home, Ancelotti said that if the decision were up to him, he'd be back in the team dugout for the start of next season.
"I put a lot of time into my work because I like it but I don't think it's for me to judge my work – that's up to the club," Ancelotti told reporters at a press conference after the game. "I don't have to think [about my future]. If the club are happy with what I have done these two seasons then I will stay. My future for me is decided, I would like to stay here, but I know how things are in football and the club have the right to change coach if they want."
The defeat at the Santiago Bernabeu Stadium leaves Real Madrid with only the UEFA Supercup and FIFA Club World Cup titles this season, missing out on La Liga, the Champions League, and the Copa Del Rey.
A number of players including Marcelo and Toni Kroos have backed Ancelotti to return next season, but there's been no word from club president Florentino Perez.
Here are some more stories to kick off your Thursday:
JUVENTUS ON THE VERGE OF SIGNING PALERMO'S DYBALA
As the party in Turin continues into the early hours of Thursday, Juventus could be ready to give their fans another dose of positive news.
Accoriding to multiple reports in Italy, Juventus are prepared to announce the signing of forward Paulo Dybala from Palermo for next season. The Giornale di Sicilia claims that Dybala will move to Turin for a transfer fee of €32 million, and he'll compete with UEFA Champions League hero Alvaro Morata and star forward Carlos Tevez for a place in the first team.
Dybala, a 21-year-old Argentine, had a breakout season in 2014/2015, scoring 13 goals in Serie A and is drawing interest from across Europe, including reports of interest from Arsenal.
LA LIGA STRIKE AVERTED
The Spanish league season won't end this weekend after all.
On Thursday, a Spanish court ruled an injunction on a planned strike by the Spanish Football Federation (RFEF) and player's union, ruling the strike inadmissible. The players and RFEF wanted to strike after the Spanish government and professional league organization (LFP), governing La Liga and the Segunda Division, agreed on a new TV deal that allows for collective bargaining and a fairer distribution of television revenue to all clubs in the leagues.
There are still some hurdles and discussions to work out between the various parties though. The RFEF wants a bigger share than 4.55 percent of the all revenue that they would receive in the deal, and the players want to ensure that Segunda Division clubs receive an increase in revenues as well.
SAO PAULO CLUBS KNOCKED OUT OF COPA LIBERTADORES
Two of the biggest clubs in Sao Paulo have been knocked out of the Copa Libertadores earlier than expected.
Sao Paulo FC and legendary goalkeeper Rogerio Ceni waved good-bye to the competition after falling on penalty kicks, 4-3, to Brazilian champions Cruzeiro. The two sides were tied, 1-1, on aggregate, with Cruzeiro's Leandro Damiao scoring the aggregate-tying goal in the 55th minute in Belo Horizonte.
Meanwhile, at the Arena Corinthians, Corinthians SC were shocked by Paraguay's Guarani, 1-0, losing 3-0 on aggregate to fall out of the competition. Fernando Fernandez scored for Guarani in second half stoppage time to put the game out of reach for Corinthians, who finished the match with nine players.
Lastly, Internacional of Porto Alegre defeated Atletico Mineiro, 3-1, at home to win 5-3 on aggregate. Lisandro Lopez scored a goal and had an assist, and star playmaker Andres D'Alessandro scored as well in the win.
QUICK KICKS
Sergio Ramos is expected to miss the final two weeks of the La Liga season after suffering a foot injury in the defeat to Juventus. (REPORT)
AC Milan and Santos FC executives met this week, with reports that among the discussions were over a transfer of Gabriel "Gabigol" Barbosa to Milan. (REPORT)
A Spanish judge has ordered former Barcelona president Sandro Rosell and current president Josep Bartomeu to stand on trial in a tax evasion case around the transfer of Neymar. (REPORT)
Despite not playing a single game this season due to a thigh injury, Barcelona could be forced to pay Arsenal €4 million if they win the UEFA Champions League, as reportedly stipulated in Thomas Vermaelen's transfer to the Catalan club. (REPORT)
Liverpool and Jordan Ibe have agreed on a new five-year contract. (REPORT)
————
What do you think of these reports? Do you see Ancelotti returning next season? Who would you like to see take his place if he leaves? Do you see Dybala living up to high expectations in Turin?
Share your thoughts below.