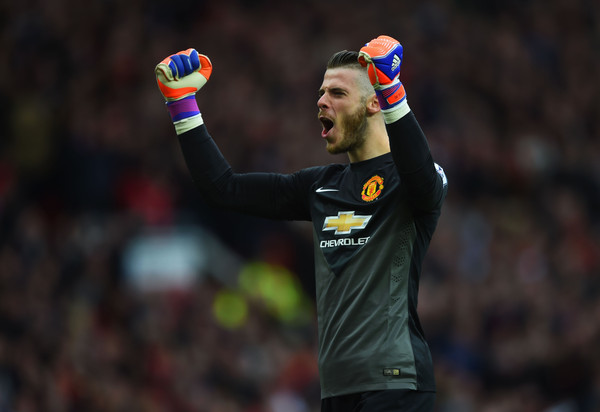 By DAN KARELL
Manchester United goalkeeper David De Gea is expected to make a decision on his future in the coming days.
According to AS.com, De Gea is deciding between signing a new contract at Man United that would quintuple his earnings, or moving back to the Spanish capital to join Real Madrid. De Gea spent his youth career and four years as a professional with Atletico Madrid, making 57 first team appearances.
Spanish publication Marca reports that Man United have placed a €40 million transfer-fee tag on De Gea, but Real Madrid are reportedly hell-bent on signing De Gea to be the eventual replacement for Iker Casillas, who is 33-years old and hasn't played at his prior level of world class goalkeeping for a few years. Marca also adds that Fabio Coentrao could also be thrown into the deal to soften the transfer price.
Balague reports that contrary to other reports, there is no verbal agreement between Real Madrid and De Gea or Real Madrid and his agent Jorge Mendes, but that a decision on De Gea's future is expected soon.
Here are some more stories to kick off your Tuesday:
FIFA MAY REMOVE WORLD CUP SPOT FROM CONMEBOL
FIFA has reportedly taken a dim view of CONMEBOL's punishment of Boca Juniors for incidents that caused Boca's second-leg match with River Plate in the Copa Libertadores to be suspended.
Spanish publication AS is reporting that FIFA will announce at their congress in Zurich, Switzerland on May 29 that CONMEBOL has lost their half World Cup place due to what FIFA believe was a soft punishment to Boca Juniors. CONMEBOL have had 4.5 places available to qualify for the World Cup since 1998, and more often than not it's meant that five South American nations would participate at the World Cup.
But if the report is true, the half-place, which calls for a playoff match against an Asian Football Confederation nation, will go to either CONCACAF or the AFC, eliminating the need for a playoff.
CONMEBOL kicked out Boca Juniors from the Copa Libertadores, fined them $200,000, and banned them from hosting their next four continental cup matches after River Plate players were pepper sprayed as they headed back on to the pitch for the start of the second half.
XAVI READY TO ANNOUNCE MOVE TO QATAR
One of Spanish soccer's most decorated players is set to depart the country and head east to continue his career.
Xavi Hernandez will announce that he's leaving Barcelona this summer to sign for Qatari club Al-Sadd, according to reports in Spain. Xavi is set to hold a press conference on Thursday to make the announcement.
Xavi will reportedly sign a three-year contract with an option worth €10 million per season. He'll also work as a coach with the Aspire academy, and he's set to sign another contract with the Qatar World Cup organizing committee to become a Qatar 2022 World Cup ambassador.
The 35-year-old midfielder won his 23rd trophy in his 17th season at Barcelona last Sunday, when Barcelona defeated Atletico Madrid, 1-0, to secure the La Liga title. The title haul tied Paco Gento for the most trophies won by a Spanish soccer player. Barcelona have two more titles to play for, the Copa Del Rey on May 30 and the UEFA Champions League on June 6.
QUICK KICKS
PSV Eindhoven winger Memphis Depay has completed his medical at Manchester United, clearing the way for him to join the club this summer. (REPORT)
Cüneyt Çakir, a 38-year-old referee from Turkey, has been chosen to officiate the UEFA Champions League final. (REPORT)
Borussia Dortmund is looking at Anderlecht youngster Youri Tielemans as a possible replacement for Ilkay Gundogan. (REPORT)
Fifty people were arrested and 70 others were interviewed by police in a match-fixing investigation in third, fourth, and fifth-division soccer in Italy. (REPORT)
Despite heading for relegation, Queens Park Rangers have signed head coach Chris Ramsey to a three-year contract. (REPORT)
What do you think of these reports? Do you see De Gea remaining at Man United? Should he spread his wings and move to Madrid? What did you think of Boca's punishment?
Share your thoughts below.