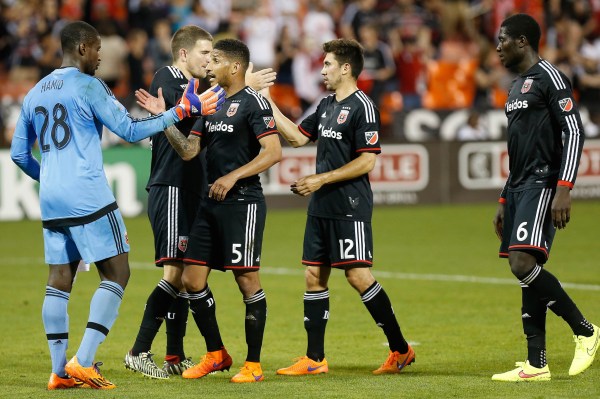 Photo by Geoff Burke/ USA Today Sports
By CLIFF STARKEY
WASHINGTON—It wasn't supposed to be like this. Last year was a fluke. This year would look more like 2013.
D.C. United had heard it all. Despite a stunning turnaround last season, in which they finished first in the Eastern Conference before an exit to the New York Red Bulls in the playoffs, many outlets—and MLS fans—didn't expect as much from the team this year.
D.C. United knew what was expected of them. And they've responded in historical fashion.
Saturday night's win at RFK Stadium against the surging Columbus Crew gives D.C. United (5-1-2) the best start in franchise history through eight games.  That bears repeating: D.C. United—four-time MLS Champions and a founding member of MLS—has never started a season as strongly as in 2015.
Marco Etcheverry. Jaime Moreno. Bruce Arena.
Fabian Espindola. Chris Rolfe. Ben Olsen.
Of course, making comparisons between this year's team and teams past—especially the dynasty of the late 90s—is short-sighted, and perhaps a little ridiculous. The first list of names brings to mind dominance. The second?
"We're lucky," head coach Ben Olsen said, smirking to the media. "Haven't you read anything?"
D.C. United hasn't been pretty. But they've won. They've been playing most of the season with a depleted roster, missing playmakers like Fabian Espindola, Eddie Johnson, Steve Birnbaum, and major offseason acquisition Markus Halsti. It's understandable that they need to do whatever it takes to get points—even if it isn't always entertaining.
Club captain Bobby Boswell credits the best-ever start to the team's depth and adaptability.
"We've found a way to get results," Boswell said. "Call it what you want—it's a group that finds a way. I think we have the ability to play great soccer. I think we have the ability to make the game ugly and still find a way to make results. We can go out and bang with anyone if they want to play physical. We have a team that can do special things this year."
Sean Franklin, whose 41st-minute goal helped D.C. United extend their current unbeaten streak to six games, is aware of some of the negative comments his team has received. But he says that although the results may be misleading, he sees real talent in the locker room.
"We definitely win games that maybe we shouldn't have," Franklin said. "But it's a good team. We have a good locker room."
Boswell agrees. He's quick to dismiss the notion of a "depleted" squad, and says that's all part of the game.
"I think we have a deep team. We've got guys ready to step in if their name is called. We're where we want to be. We're up near the top. It's a good start for us. Hopefully we keep moving in the right direction."
Whether they're great, scrappy, or just lucky, the fact is that D.C. United is continuing right where they left off last season. In addition to the aforementioned win streak this season, D.C. United has now gone sixteen games undefeated at home, dating back to June 28 of last year.
If you still want to call them lucky, Boswell says, go ahead.
"I'd rather be lucky than good," Boswell laughs.
Luck runs out, though. Right?
"That's what everybody keeps telling me," Olsen says.
Whatever it is, it hasn't run out yet.