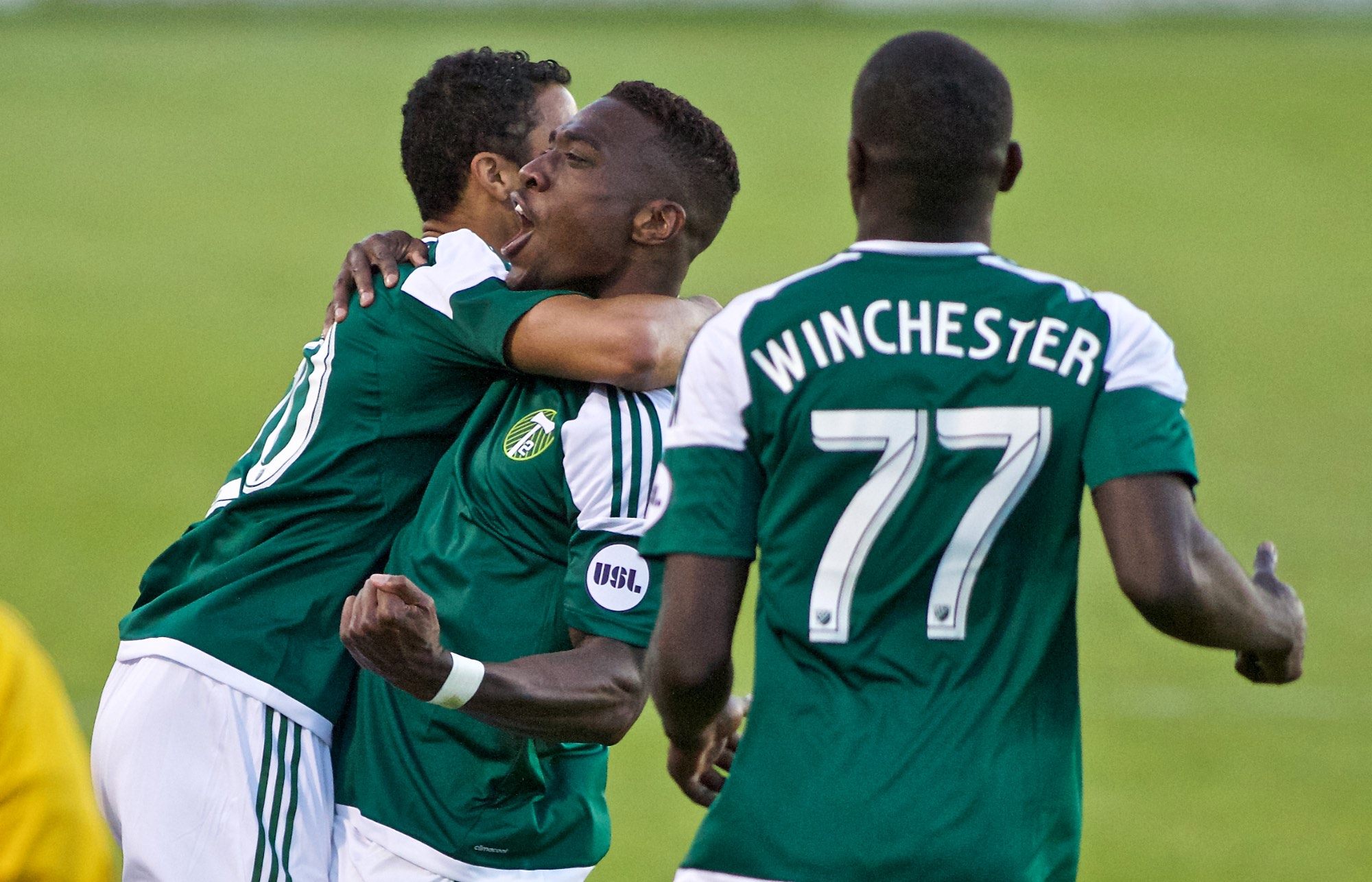 By ADAM TROXTELL
The weekend USL action kicks off with a Cascadia Clash.
Portland Timbers 2 and Seattle Sounders 2 meet for the second time this season. It was Sounders 2 who came away with the victory back in April thanks to Giuliano Frano's strike with two minutes remaining.
It's not the only regional clash of the weekend. Expansion teams Saint Louis FC and Louisville City FC also meet with five points separating them in the Eastern Conference. The Rochester Rhinos try to stay unbeaten against Toronto FC II.
Both New York Red Bulls II and FC Montreal will be looking for valuable points in their Sunday game.
Here is a closer look at this weekend's USL action:
PORTLAND TIMBERS 2 vs. SEATTLE SOUNDERS FC 2 (10 p.m., Friday, YouTube)
The second Timbers-Sounders meeting in USL this season will also be the first of two this week.
Whatever happens in the Friday night meeting can be made up for days later when the teams play in the U.S. Open Cup. T2 will be looking to establish some consistency in the league, as they currently sit in 11th place and five points away from their Northwest neighbors.
Sounders 2 can at least for a moment take top spot in the Western Conference with a win. They have yet to win a road game this season.
TORONTO FC II vs. ROCHESTER RHINOS (8 p.m., Saturday, YouTube)
As the only team still unbeaten in the USL this season, the Rochester Rhinos will have a target on their backs against Toronto FC II.
The Canadian side will be looking for a big result to delight its first home crowd of the season. The road has not been kind to TFC II, with just two wins and five losses in an eight-game span.
NEW YORK RED BULLS II vs. FC MONTREAL (8 p.m., Sunday, YouTube)
FC Montreal secured its first win since USL reincarnation last time out, but wins are still desperately needed heading into Sunday.
New York Red Bulls II are almost just as in need of a good result. Three games without a win for Red Bulls II included a surprise 1-0 loss to Jersey Express in the U.S. Open Cup earlier this week.
Visiting Montreal is still at the bottom of the Eastern Conference, six points behind eighth-place NYRB II.
SAINT LOUIS FC vs. LOUISVILLE CITY FC (8:30 p.m., Sunday, YouTube)
Louisville City fired the first shots across the bow in the season opener, but Saint Louis FC has a chance to respond in front of a home crowd.
Since that 2-0 win, Louisville has only lost once and is currently on a three-match unbeaten run in all competitions. Saint Louis is on similar form, with three wins from the last four outings.
RICHMOND KICKERS vs. PITTSBURGH RIVERHOUNDS (7 p.m., Saturday, YouTube)
CHARLESTON BATTERY vs. CHARLOTTE INDEPENDENCE (7:30 p.m., Saturday, YouTube)
OKC ENERGY FC vs. SACRAMENTO REPUBLIC (8 p.m., Saturday, YouTube)
AUSTIN AZTEX vs. TULSA ROUGHNECKS FC (9 p.m., Saturday, YouTube)
COLORADO SPRINGS SWITCHBACKS vs. ARIZONA UNITED SC (9 p.m., Saturday, YouTube)
VANCOUVER WHITECAPS vs. REAL MONARCHS SLC (5 p.m., Sunday, YouTube)