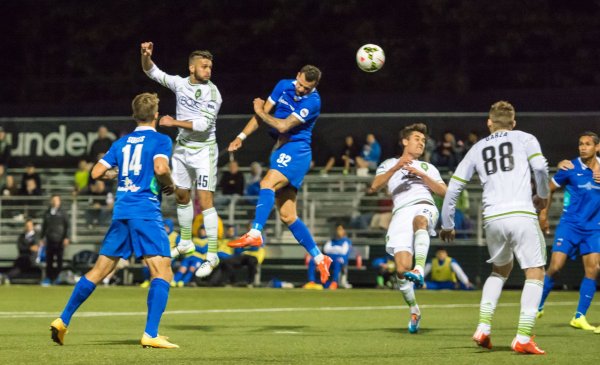 Photo by Orange County Blues FC/NASL
By COLE KELLOGG
This week in USL gives us a a number of games with one team in each half of the table.
Overall last place team FC Montreal will face off against against their first place counterpart the Rochester Rhinos.
In a similar battle in the Western Conference, the last place Real Monarchs with fight Sacramento Republic FC, who are just a point out of first place.
Portland and Tulsa will play to try and work their way into a playoff spot in the West, while Colorado will try to leapfrog LA II with a victory on the road.
Here is a closer look at this weekend's USL action:
Austin Aztex vs. OKC Energy FC (8pm, Sunday, Youtube)
OKC have picked up just on less point than Austin with two games in hand. The Energy will have a chance at home to pick up three important points and leapfrog the Aztex.
The Energy are undefeated in their last two, with just two losses on the season. In their last USL match, a 2-1 win against Sacramento, the Energy got goals from leading scorer Danni Konig and Sebastian Delgaard.
The Aztex are slipping with back-to-back losses against Arizona and Tulsa. The team is lucky to have two streaking goalscorers at the moment, though, with both Trevin Caesar and Kris Typrak scoring twice in the the last three games.
New York Red Bulls II vs. Richmond Kickers (7pm, Saturday, Youtube)
New York II will be looking to avenge a 1-0 loss to Richmond earlier this season. Brian Ownby scored the winner for the Kickers on the road.
Last time out, the Red Bulls beat the last place team FC Montreal 3-2, with goals from Anatole Abang and Derrick Etienne.
Richmond has not won a game out of their last four matches, giving up eight goals in the process. The Kickers will hope that performances from Ownby and Matthew Delicate, who have each scored two goals in the last three matches, will help earn a result against New York.
Harrisburg City Islanders vs. Pittsburgh Riverhounds (Saturday, 7pm)
Harrisburg has won three games in a row now, amassing eight goals and only letting in one. Ken Tribbett has scored three of those goals, and the Islanders will hope that he can keep it up on Saturday.
Pittsburgh have slowed down their goalscoring recently, after coming out of the gate with 13 goals in their opening five matches.
One of those matches was a 5-2 victory over Harrisburg City. In that overwhelming victory, Rob Vincent scored twice and assisted two of Kevin Kerr's three goals.
Saint Louis FC vs. Louisville City FC (7:30pm, Saturday, Youtube)
An exciting 3-3 draw was the result when these two sides squared off last weekend in Louisville. Matt Fondy scored twice for City in that match, with Nate Polak adding another for the men in purple. Saint Louis had three separate goalscorers in Bryan Gaul, Mike Roach, and Charles Renken.
In the week before that match, Saint Louis FC lost to Toronto at home, while Louisville managed a 4-0 home victory against Toronto two days later.
Seattle Sounders II vs. Orange County Blues FC (10pm, Saturday, Youtube)
These two sides met in Seattle a month ago, with Sounders II winning 2-1. Pablo Rossi and Sam Garza scored for Seattle in that match, and Cristofer Ramirez got on the scoresheet for the losing side.
The Seattle Sounders are coming off of three victories in a row, with two coming against rivals Portland Timbers II. Andy Craven has scored three times in the team's last two USL matches.
Before a tough 1-0 home loss to Tulsa last weekend, Orange County had won back-to-back matches. Ramirez has scored three goals in five games for the Blues.
Rochester Rhinos vs. FC Montreal (7:05pm, Saturday, Youtube)
Wilmington Hammerheads FC vs. Charleston Battery (7:30pm, Saturday, Youtube)
Portland Timbers II vs. Tulsa Roughnecks FC (8:30pm, Saturday, Youtube)
Real Monarchs SLC vs. Sacramento Republic FC (10:30pm, Saturday)
Colorado Springs Switchbacks FC vs. LA Galaxy II (10:30, Saturday, Youtube)
Arizona United SC vs. Vancouver Whitecaps FC 2 (5pm, Sunday, Youtube)