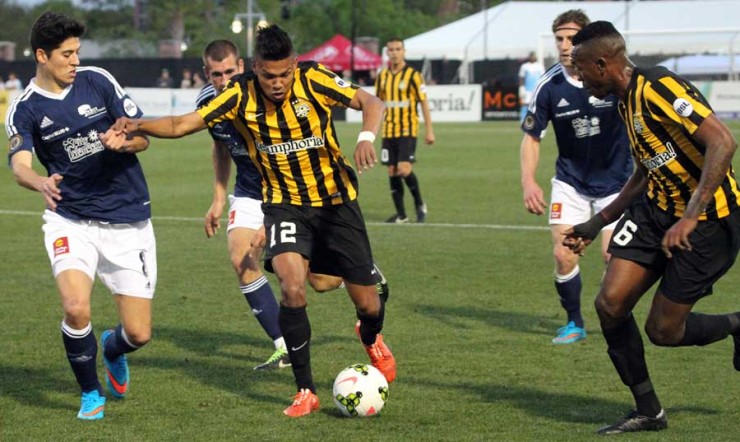 Photo by Vin Duffy / Charleston Battery
By ADAM TROXTELL
After suffering their first blemish of the 2015 season, the Charleston Battery are looking to bounce back in a big way.
New York Red Bulls II await on Sunday for a visit from the Battery, who sit second in the Eastern Conference after a 1-0 defeat to FC Montreal on Thursday. Red Bulls II is also looking to bounce back from a loss to Harrisburg City Islanders, but has had all week to make adjustments.
Two teams near the top in the west square off late Sunday as LA Galaxy II hosts Sacramento Republic FC. Saturday sees Real Monarchs SLC face Portland Timbers 2, while the unbeaten Rochester Rhinos hit the road to play the Wilmington Hammerheads.
Here is a closer look at some of this weekend's USL matchups:
SEATTLE SOUNDERS FC 2 vs. OKC ENERGY FC (10:30 p.m., Friday, YouTube)
The first time these teams met in Oklahoma City, Energy FC handed Sounders 2 a second consecutive defeat on the team's first road trip of the season.
Now Sounders 2 welcomes Energy FC to Starfire Sports Stadium with a score to settle. Despite a 3-0 defeat at the hands of Sacramento Republic FC last weekend, Sounders 2 still sits just two points off of the top in the Western Conference.
After a home match against LA Galaxy II was postponed last weekend due to weather concerns, Energy FC has not played for 14 days since a 2-2 draw with Austin Aztex.
WILMINGTON HAMMERHEADS vs. ROCHESTER RHINOS (7 p.m., Saturday, YouTube)
Due to midweek proceedings, the Rochester Rhinos now stand alone as the only USL team yet to be defeated.
In contrast, the Wilmington Hammerheads have lost four straight, so they'll need to spring a surprise to bring the Rhinos' hot start to the season to an end. The Hammerheads have only scored four goals in eight games this season.
REAL MONARCHS SLC vs. PORTLAND TIMBERS 2 (9 p.m., Saturday, YouTube)
A pair of MLS affiliates clash late Saturday looking to find some consistency.
Portland Timbers 2 have a hot start and Kharlton Belmar to thank for a five-point gap between them and Real Monarchs SLC. Belmar leads the way with five goals for Timbers 2, who are looking to bounce back from a loss and having last weekend's match against Colorado Springs Switchbacks postponed.
After a winless first six games, the Monarchs sprung a surprise a few weeks ago by beating Sacramento 1-0 at home. A 3-2 loss to Austin Aztex, however, has the Monarchs in 11th place in the Western Conference.
NEW YORK RED BULLS II vs. CHARLESTON BATTERY (7 p.m., Sunday)
In a rematch from a month ago, New York Red Bulls II and the Charleston Battery enter their Sunday matchup in slightly different conditions.
Since their 1-1 draw on April 18, Red Bulls II has gone on to win just one of the next four games. The Battery won two and tied one before falling to Eastern Conference basement dwellers FC Montreal on Thursday.
That might have the Battery a little upset heading into this one, but they still sit just three points off of first place Rochester.
LA GALAXY II vs. SACRAMENTO REPUBLIC FC (7:15 p.m., Sunday, YouTube)
Almost two months into the USL season, LA Galaxy II and Sacramento Republic FC are meeting for the third time.
Defending champions Sacramento got the better of Los Dos on both previous occasions, and combined with last season has won five of their six meetings. Even with the overwhelming advantage against their California counterparts, Republic FC holds just a two point lead over Los Dos in the Western Conference.
PITTSBURGH RIVERHOUNDS vs. RICHMOND KICKERS (7 p.m., Saturday)
HARRISBURG CITY ISLANDERS vs. CHARLOTTE INDEPENDENCE (7 p.m., Saturday)
LOUISVILLE CITY FC vs. TORONTO FC II (7:30 p.m., Saturday, YouTube)
ORANGE COUNTY BLUES vs. TULSA ROUGHNECKS (10 p.m., Saturday, YouTube)
ARIZONA UNITED vs. AUSTIN AZTEX (10:30 p.m., Saturday)
VANCOUVER WHITECAPS FC 2 vs. OKC ENERGY FC (5 p.m., Sunday)