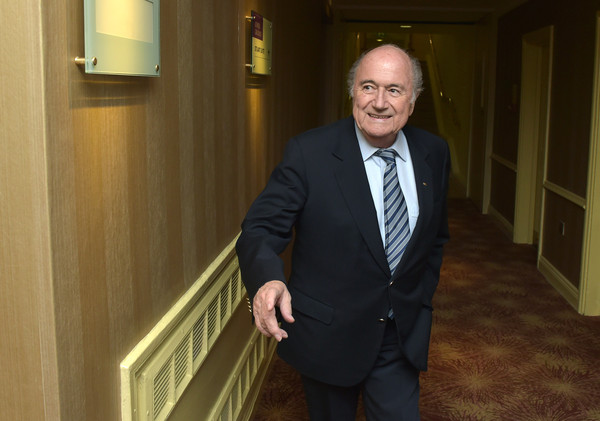 By RYAN TOLMICH
Despite the string of arrests that has threatened the federation's leadership, FIFA's presidential elections are set to remain unaffected.
FIFA confirmed that Friday's presidential election will go on as scheduled despite the recent controversies. FIFA's head of communications and public affairs Walter De Gregorio says that FIFA will welcome the process of the investigations, while also stating that FIFA is "the damaged party" in the recent events.
"FIFA initiated this process on Nov. 18 last year," De Gregorio said at a press conference. "FIFA lodged a legal complaint with the federal attorney that had to do with the 2018 and 2022 World Cups. While the timing may not obviously be the best, FIFA welcomes this process and FIFA cooperates fully with the attorney general of Switzerland and Federal Office of Justice and it corresponds to all requests for information.
"I wish to repeat in this case FIFA is the damaged party, this leads to the fact that there were no searches within the offices of FIFA. The general secretary and the president [Blatter] are not involved. There was never such an idea to postpone either the congress or the election. One thing has nothing to do with the other so we go on with the agenda and the election will take place as planned."
Current FIFA president Sepp Blatter is facing challenger Prince Ali of Jordan in Friday's FIFA presidential election.
Here are some more news and notes to kick off your Wednesday morning:
HARRY KANE STATES COMMITMENT TO TOTTENHAM
Harry Kane's breakout season ensures that that Tottenham forward would have plenty of suitors. However, the Englishman insists that he won't be on the move.
Kane, who has been linked with Manchester United, has restated his commitment to his current club, where he has been situated since joining as a youth player in 2004. Kane scored 31 goals for Tottenham in all competition this season while also earning two call-ups to the England national team.
"Spurs are a big club and I have a bright future here," Kane told reporters from Malaysia, where Tottenham is conducting a postseason trip. "I hope to continue scoring goals and doing well with the club."
TIGRES ADVANCE TO COPA LIBERTADORES SEMIFINALS
After dropping the opening leg, 1-0, Tigres UANL was going to need a big performance in the second leg of the Copa Libertadores quarterfinals.
A big performance was exactly what was provided, as the Mexican side topped Emelec, 2-0, in the second leg at the Estadio Universitario.
The aggregate scoreline was leveled in just the sixth minute by midfielder Rafael Sobis, but Tigres would have to wait until the waning moments to claim the winner. Defender Jose Rivas provided the winner with a header on a corner kick, propelling the Mexican club into the semifinals.
Tigres now awaits the winner of Santa Fe and Internacional, with the Colombian club holding a 1-0 advantage from the opening leg.
QUICK KICKS
FIFA presidential candidate Prince Ali bin al-Hussein contacted police after being offered votes and illegally obtained information from a third party. (REPORT)
Real Madrid will pay Carlo Ancelotti $4 million in compensation after firing the Italian manager on Monday. (REPORT)
Liverpool is planning to pursue Aston Villa forward Christian Benteke to add to the club's weakened forward line. (REPORT)
Real Madrid goalkeeper Iker Casillas says he would welcome David de Gea at the club. (REPORT)
What do you think of these reports? Shocked that FIFA isn't postponing their elections? How do you see Kane faring with Tottenham next season? Which team do you see as favorites in the Copa Libertadores?
Share your thoughts below.