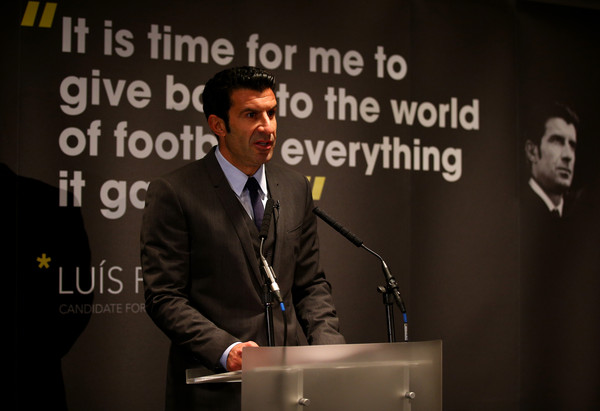 By RYAN TOLMICH
FIFA's presidential battle is set to become a two-horse race.
Dutch paper De Volkskrant is reporting that Luis Figo and Michael van Praag will withdraw their candidacy for FIFA president following a meeting in Geneva last week. The two will place their support behind Jordan's Prince Ali Bin Al-Hussein to battle the incumbent Sepp Blatter.
Prince Ali, who declared his intentions to run in January, had collected more support from FIFA's 209 countries than Figo and van Praag, but is still seen as  a heavy underdog against Blatter. The Confederation of African Football has already revealed that all 54 member nations will vote for the current president, giving Blatter over half of the 105 votes required to stay in office.
The decision on FIFA's presidency will be revealed on May 29 in Zurich.
Here are some more news and notes to kick off your Wednesday morning:
CONMEBOL DISMISSES BOCA JUNIORS APPEAL
Following a major incident against rivals River Plate, Boca Juniors will have to face the music.
CONMEBOL has denied the Argentinian club's appeal following an incident of fan violence that saw River Plate players pepper sprayed at the club's Copa Libertadores clash. As a result, River was awarded a 3-0 win, while Boca was ordered to pay a $200,000 fine, play four games behind closed doors and four away matches without visiting supporters.
Boca has since found and named the 11 fans responsible for the incident, who could face stadium bans.
River Plate takes on Cruzeiro on Thursday in the Copa Libertadores quarterfinals.
GALLIANI PROMISES SUMMER OF SPENDING FOR AC MILAN
In the past few years, AC Milan has fallen off from the Serie A elite, but CEO Adriano Galliani says that will change soon enough
Galliani says that Milan will splash the cash this summer, hoping to put an end to a drought that has culminated in a season that sees the club currently sitting 11th in Serie A.
"Milan have reached three Champions League finals in 10 years and won it twice. My goal is to help the club return to that level," Galliani said. "[Club owner Silvio] Berlusconi has a lot of desire to return to the top. We want to return to the top after a year where we have suffered a lot.
"We will have a big transfer campaign. It's easy to start over again when you have the prestige Milan has. Just look at what [reigning champion] Juventus achieved. We finished 11th in the table in 1998 and then won the Scudetto the year after. We want to repeat that and get back to the top."
QUICK KICKS
Juventus' Giorgio Chiellini holds no ill will towards Luis Suarez following the biting incident at last summer's World Cup. (REPORT)
Liverpool forward Raheem Sterling was booed at the club's award ceremony after reports stated the forward's desire to leave the club. (REPORT)
Club America has parted ways with manager Gustavo Matosas after just five months. (REPORT)
FIFA president Sepp Blatter has proposed a "match for peace" between Israel and Palestine. (REPORT)
What do you expect from the FIFA presidential race? What do you think of the Boca punishment? What does the future hold for AC Milan?
Share your thoughts below.