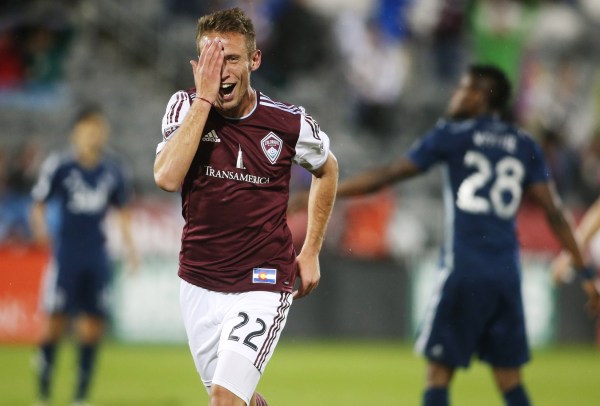 Photo by Chris Humphreys/USA Today Sports
By COLE KELLOGG
Kevin Doyle made his debut as the Colorado Rapids' third ever DP on Saturday night, but it was a defensive midfielder that helped the Rapids grab three points at home against the Vancouver Whitecaps
The Whitecaps travelled to Dick's Sporting Goods Park needing a win after a bad loss to the Seattle Sounders last time out, but the hosts had other intentions, and the Rapids pulled out a hard fought 1-0 victory at home.
In a game that was delayed after halftime due to rain, Lucas Pittinari scored the important goal for the Rapids in the 51st minute. Dillon Powers sent a driven ball in to Gabriel Torres, who chipped it up with one touch to Pittinari. The on-loan midfielder sent a volley past David Ousted to put the Rapids up 1-0.
A controversial call by the referee was made about 10 minutes from time, when a Vancouver free kick that beaten Rapids goalkeeper Clint Irwin was called back for a supposed foul against the Whitecaps.
Ousted came up big six minutes following Pittinari's finish with a save on Luis Solignac. Torres sent a great ball in for Solignac, but the Caps' goalkeeper was out and ready for the shot.
The Whitecaps goalkeeper had to come up big again with an oustretched save on Solignac in the 76th minute. A well-taken Dillon Powers free kick fell to Solignac in the box, who struck a hard shot across the face of goal.
With Saturday's performance, the Rapids pick up the team's second win of the season to go with a league-leading seven draws.
The Rapids will travel to CenturyLink Field to face off against the Sounders on May 27, while the Whitecaps will host Real Salt Lake three days later.