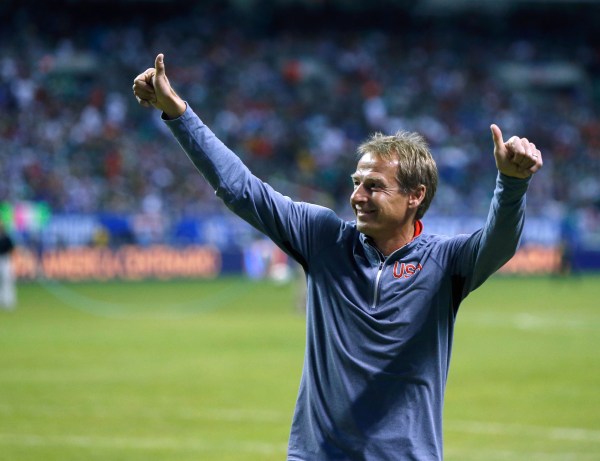 Photo by Erich Schlegel/USA Today Sports
By RYAN TOLMICH
Heading into matchups against two European powers, the U.S. Men's National Team will be hampered by absences to some of its regulars. However, for head coach Jurgen Klinsmann, those absences might not be so bad after all.
Clint Dempsey, Jozy Altidore, Jermaine Jones and Alejandro Bedoya will all miss out on the upcoming friendlies against the Netherlands and Germany, leaving Klinsmann a bit shorthanded when it comes to relying on some of his team's proven stars.
However, the USMNT head coach says that, with the Gold Cup looming, the absences of some familiar faces will allow some of the team's youngsters to jump into the fire of a major test ahead of a crucial summer tournament.
"I think every player always thinks day-in and day-out how far can I go in my career at the international level, and sometimes when you have big names in front of you maybe just don't believe that you can get there," Klinsmann told USSoccer.com. "You have Clint Dempsey in front of you, Jozy Altidore in front of you, also Alejandro Bedoya, who really became an important piece in our team, in front of you, and then maybe you don't expect to get that opportunity. So now you get that opportunity.
"You can play against Holland, you can play against Germany, and now you have to understand that you better use it. You better make the best out of it and prove to the coaches and the fans that you deserve to be a part of the program moving forward. So I think that's pretty cool. I think that's very exciting, even though it's difficult for a coach when some key players are not there because you also want to have positive results and show these big name teams that you are able to play with them."
In particular, Klinsmann is looking forward to helping further the group's next generation of strikers with the absences of Dempsey and Altidore.
While Dempsey and Altidore have established themselves as proven international forwards in recent years, those that currently sit behind them on the depth chart have yet to step up to achieve the same heights.
Juan Agudelo, Aron Johannsson, Bobby Wood and Gyasi Zardes will lead the USMNT's forward line, while looking to lock down a spot on this summer's Gold Cup roster.
For Klinsmann, the pair of friendlies present a chance to help the younger crop of strikers gain confidence and swagger in match-ups with two of the world's top teams.
"The topic of strikers for us is a huge one," Klinsmann said. "Obviously we have Jozy that we rely on, and Clint who has done this job for so many years, but we need the next generation of strikers to come in and score goals on a consistent basis. The key message to our young talented strikers is you have to score consistently. You can't ever get satisfied.
"They need to have a ratio where they score at least a goal every third game. That's what you expect from an international-caliber striker. You have to figure out ways to score goals, ways to create chances for yourself if you aren't getting them from your teammates. That's a lot of work."
One position that isn't really up for grabs is the role of goalkeeper, as Klinsmann has pegged Brad Guzan as the team's starter heading into the Gold Cup.
Despite Guzan's struggles on the club level in recent weeks, Klinsmann insists that he remains fully behind the Aston Villa goalkeeper as the USMNT's top man in goal.
"We are excited to have Brad Guzan back in our group. He will be the starter in the Gold Cup," Klinsmann said. "He is our number one, so it's really important for him to pick up games with us. It's exciting, even if he had some tough weeks at Aston Villa where suddenly the coach for whatever reason decided to put him behind Shay Given. That surprised us big time, but he fights through that and he will be sharp and hungry for the long summer.
In addition, Klinsmann revealed that, upon his return, Jones will be slotted back into the midfield due to recent emergences in the centerback position.
Youngsters like Ventura Alvarado and John Brooks have stepped up in recent months to join the competition with regulars Omar Gonzalez, Matt Besler and Geoff Cameron. As such, Jones now has the freedom to be shifted into a more familiar midfield role going forward.
"Another big fixture for us is Jermaine Jones," Klinsmann said. "He's going to be back in midfield because of the fact that we have so many high-quality center backs. With the discovery of Ventura Alvarado, who won the CONCACAF Champions League with Club America, we think we have a very strong and stable backline and we don't need Jermaine in the center back role.
"We also talked with his club coach and we are both on the same page there. He will be back in his number six or number eight role, wherever he fits best."
While Guzan and Jones' places are nailed down, many players in the pool have yet to lock up a spot going forward into the summer.
For Klinsmann, everything from this point forward is about having a strong Gold Cup, and that starts with seeing his players step up and grab the opportunity to be a part of it with performances against two top teams.
"Putting together the pieces now for these two very, very prestigious friendlies, obviously in the back of your mind there's the Gold Cup," Klinsmann said. "It's a huge opportunity to play nations like these two in order to see a lot of things that you want to see from your players. In a certain way, we want to see a couple of guys get thrown in the freezing cold water and see how they can swim and where they stand right now in the ranking of the Men's National Team.
"That's why I want to see Ventura Alvarado or John Brooks play in games like this. Up front, because Jozy Altidore is not here and Clint Dempsey is not here, the youngsters that jump on board now have got a point to prove. For all these guys, games like these are opportunities that don't happen often in a lifetime, so you better jump on those."