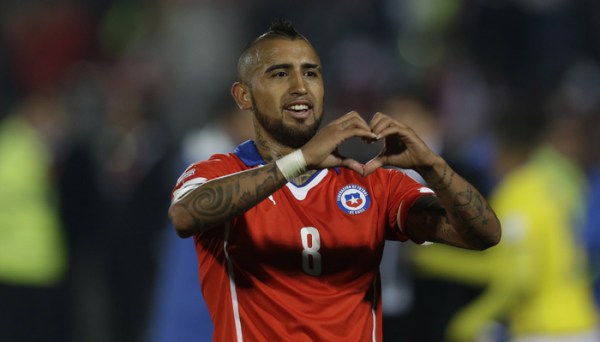 By RYAN TOLMICH
Although his team's run through the Copa America has been relatively unaffected by his issues, the controversy surrounding Arturo Vidal's drunk driving incident is far from over.
Vidal will reportedly be arraigned on July 8 on additional charges after allegedly threatening an officer after drunkenly crashing his Ferrari last week. According to the report, Vidal lashed out at the officer in a profanity-laced rant and could face a 61-day suspended jail sentence if convicted.
The Chilean midfielder has had his driver's license suspended as a result of the incident and has been ordered to report to the Chile consulate in Italy monthly upon his return to Juventus.
Here are some more news and notes to kick off your Thursday morning:
BOCA JUNIORS HOPING TO UNVEIL TEVEZ ON JULY 7
If Boca Juniors gets the club's way, Carlos Tevez will be joining sooner rather than later.
Boca Juniors are reportedly hopeful to present the forward to the club's fans as soon as July 7 after nailing down a deal with Juventus. The deal will reportedly see an exchange in transfer fee, as well as Juventus' choice of a Boca player in return.
"We are very happy," said general secretary Cesar Martucci. "After a lot of work, we have nailed down the return of Carlos Tevez.
"In Argentine football, there is not another player like Carlitos," Martucci added. "This is a great joy for all the fans of Boca. Unlike many players who returned, Carlos Tevez returns at the maximum. Hopefully the return of Carlos Tevez will give the Boca fans the results they expect."
The 31-year-old was previously a part of the club from 1997-2004, making 75 first team appearances and scoring 26 goals before departing for Brazil's Corinthians.
QUERETARO EYEING ROBINHO
Queretaro will see the departure of Ronaldinho, but it appears the the club has now turned its gaze towards another Brazilian star.
The Mexican club is reportedly hoping to sign Brazilian forward Robinho, who could be available on a free transfer after his contract with AC Milan was reportedly terminated back in May following a loan spell with Santos. However, Queretaro sporting president Joaquin Beltran says the acquisition will depend on need as the club continues to assess its roster going forward.
"Robinho is one of the possibilities we're looking at," Beltran said.
"We have to define which position [is most required] to see who will be the player that comes in."
BORUSSIA DORTMUND LOOKING TO HOLD ONTO AUBAMEYENG
Despite interest from England, Borussia Dortmund is hoping not to lose the team's star forward.
BVB has stated that the club has no intention of selling forward Pierre-Emerick Aubameyeng despite interest from Arsenal. Arsenal had reportedly offered a bid of €40 million ($45 million) for the forward, although sporting director Michael Zorc said directly that the club is "not interested in selling Aubameyang".
The 26-year-old Gabon international joined BVB from AS Saint-Étienne in 2013 and has scored 30 goals in 67 appearances for the German club.
QUICK KICKS
Southampton has reportedly accepted Liverpool's bid for defender Nathaniel Clyne. (REPORT)
Russia will reportedly be holding talks with manager Fabio Capello with the aim of ending the Italian coach's contract. (REPORT)
Bayern Munich has reportedly offered €35 million for Shakhtar Donetsk midfielder Douglas Costa. (REPORT)
Marseille midfielder Dimitri Payet is nearing a move to West Ham. (REPORT)
—
What do you expect to come from Vidal's potential additional charges? How would Tevez fare at Boca Juniors? Where do you expect Aubameyeng to end up?
Share your thoughts below.