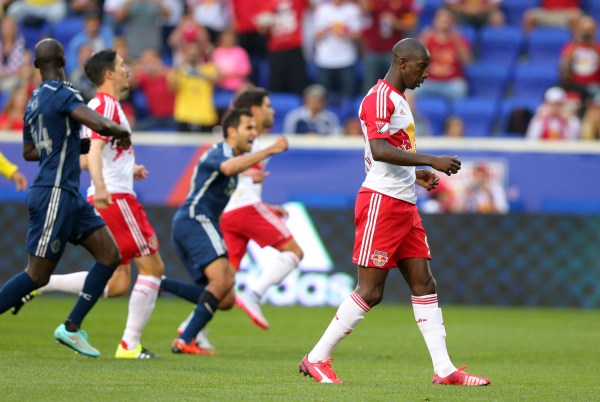 Photo by Brad Penner/USA TODAY Sports
BY MICHAEL PENG
Following their latest loss on Saturday to the Vancouver Whitecaps, the New York Red Bulls are left once again looking for answers as to how to halt their current four-game skid.
Instead of making drastic tactical changes, though, the team is thinking of something more introspective.
"You can talk about tactics all you want, you can talk about technical ability all you want… but I think when it's all said and done, it just comes down to our mindset, it comes down to our mentality," team captain Dax McCarty said after training.
"Winning is contagious, just like losing. Right now, it seems like nothing is going our way… When you're on a bad run, it's a snowball effect. Everything is just going against you."
The case in point being the 2-1 loss to the Whitecaps, which came particularly frustrating for the Red Bulls as they saw two penalty chances go to waste due to Whitecaps goalkeeper David Ousted's impressive saves on both attempts.
However, McCarty said it's situations like these where players "really show character." And one of the ways he thinks he and his teammates can do that is to be more aggressive physically on the pitch rather than focusing on the technical aspects of the game.
"If you want to outplay a team, that's great, but if three points doesn't come out of it, it doesn't really mean anything," the 28-year-old midfielder said. "So our mindset has to change from play well, try to win and hope we win, to screw it, if we have to play like bastards, if we have to play cynical, if we have to kick people, if we have to be physical, if we have to get up to guys' faces, then we need to change that.
"As far as I'm concerned, we haven't been mean enough this year and teams are bullying us a bit," McCarty added. "So once we change that mentality, that mindset, I think the wins will start to come."
Manager Jesse Marsch said there are certain guys that have shown they are "hungry" and "ready to do whatever it takes" to help turn things around. He just needs to figure out how to utilize those players' services properly ahead of Wednesday's home game against Real Salt Lake.
"We are figuring out how to put 11 guys on the field on Wednesday that are going to go out there and win, period," Marsch said. "Win ugly, win pretty, win in whatever way possible to come out with three points because that's where we are at right now. We've got to figure out a way to stop the bleeding."
Anatole Abang, who scored Red Bulls' lone goal in the recent loss, along with Sean Davis, Connor Lade, Manolo Sanchez and Leo Stolz are some of the names Marsch mentioned who are making him consider giving more playing time going forward.
"There is a lot of different young guys that I think are now showing they are ready to help us," Marsch said. "So some tough decisions to make, but we are putting a team on the field that's going to go after it."
The current slide has pushed the Red Bulls down to seventh place in the Eastern Conference with 17 points at the halfway mark of the season, but McCarty said the team has remained calm through the tough stretch.
"We are certainly not panicking," he said. "We know we are a good team, but it doesn't mean anything if you're not winning games, so we need to start winning games."