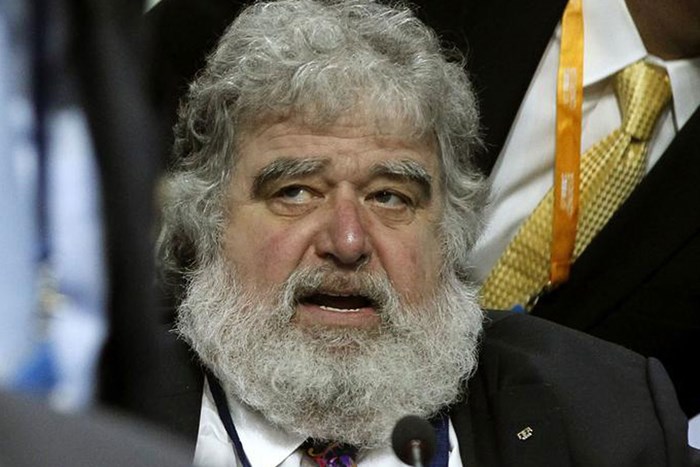 By DAN KARELL
We now know exactly what Chuck Blazer agreed to do for the U.S. government in exchange for the likelihood that he'll avoid jail time for ten charges of racketeering, wire fraud, and tax evasion.
On Monday, the U.S. government unsealed the plea agreement between the U.S. District Attorney and Blazer following a U.S. District Court judge's orders, confirming that Blazer did provide valuable information to the Department of Justice and that he paid a preliminary fine of $1,958,092.72, considered to be "a portion" of the money he received from kickbacks of CONCACAF media and marketing deals.
Blazer, the former FIFA Executive Committee member and CONCACAF general secretary, was facing up to 75 years in prison for the crimes he committed between 1991 and 2013, prior to reaching a plea agreement on Nov. 23, 2015. It was also revealed that Blazer will pay back unpaid income taxes of $11 million to the IRS, and he'll make another large payment at sentencing.
U.S. District Court Judge Raymond Dearie wrote in his order to unseal the agreement that five news agencies had requested the agreement become public information, and that "the
government has not met its high burden of establishing that continued sealing is necessary to prevent a substantial probability of prejudice to a compelling government interest." That led to the agreement being released on Monday.
Here are some more stories to jump-start your Tuesday morning:
MEXICO TIES CHILE IN COPA AMERICA THRILLER
We might still be in the early stages of the Copa America, but there is already a contender for game of the tournament.
Playing against hosts Chile, Mexico came back from a goal down in the second half to tie Chile, 3-3, in a thrilling match at the Estadio Nacional in Santiago. Naturalized Mexican Matias Vuoso played the hero for El Tri, scoring twice, including the crucial game-tying goal in the 66th minute.
Vuoso gave El Tri the lead in the 21st minute but seconds later, Chilean star midfielder Arturo Vidal scored off a corner kick with a powerful header. In the 29th minute, Mexico went ahead again through Raul Jimenez but Eduardo Vargas tied the game up again for Chile in the 42nd minute with a well-placed header.
Vidal scored his second goal of the match from the penalty spot in the 55th minute but Vuoso's finish against the run of play took the wind out of Chile's sails for the moment.
Chile had two other goals ruled back for offside, but video replay suggests that the calls from the assistant were wrong.
BOLIVIA USES STRONG FIRST HALF TO STUN ECUADOR
Bolivia entered its second 2015 Copa America match having failed to win a game in the tournament since 1997.
Thanks to a strong first half, that abysmal streak is over.
Bolivia scored three times in the opening 45 minutes and withstood heavy pressure in the second stanza to edge Ecuador, 3-2, at Estadio Elias Figueroa on Monday. The Bolivians jumped out to an early lead through a fourth-minute strike from Ronald Raldes, and netted twice more to hold a 3-0 advantage before halftime thanks to goals from Martin Smedberg-Dalence and Marcelo Martins Moreno.
Ecuador responded well, mustering up a much improved second half. Enner Valencia gave his nation hope by finishing a chance two minutes after the intermission, and the Ecuadorians piled on the pressure before Miller Bolanos cut the deficit to 3-2 with a goal in the 80th minute.
That was as close as Ecuador got, however, as Bolivia held on for its first Copa America victory in nearly two decades.
The result coupled with Mexico and Chile's 3-3 draw saw the tournament hosts and Bolivia grab four points apiece through their first two games. The Chileans are in first due to a slightly better goal differential.
Mexico follows in third with two points while Ecuador sits in last after failing to get a result in either of its first two games of the tournament.
MILAN OFFICIALLY APPOINT MIHAJLOVIC
AC Milan have sacked a club legend and replaced him with a former Serie A star with Lazio and Sampdoria.
The Italian giants confirmed that they had parted ways with Filippo Inzaghi on Tuesday and made official the worst-kept secret in Italy, that Sinisa Mihajlovic would be the new AC Milan head coach. Mihajlovic joins AC Milan on a two-year contract.
Mihajlovic spent the last two seasons coaching Sampdoria, first leading them to a 12th-place finish and then improving to a seventh-place finish last season. The 46-year-old has coached Fiorentina, Catania, and Bologna, as well as a short-lived spell in charge of the Serbian National Team. He spent his 20-year professional career between Serbia and Italy, playing for Roma, Sampdoria, Lazio, and Inter Milan.
NOBEL PEACE CENTER ENDS COOPERATION WITH FIFA
In light of the latest round of FIFA scandals, the Norwegian-based Nobel Peace Center has announced that they want nothing to do with FIFA.
"The board asks the administration to terminate the cooperation with FIFA as soon as circumstances allow," the Nobel Peace Center said in a statement, via Reuters. "The board also asks the administration to start a dialogue with the Norwegian Football Association for the Handshake for Peace initiative to continue in the future,"
The Nobel Peace Center worked with FIFA for their joint "Handshake for Peace" initiative, which FIFA president Sepp Blatter backed to put a stop to racism or other discrimination on the field.
In response, FIFA said they were disappointed and believed the decision did not embody "fair play."
"We are disappointed to have learned from the media about the Nobel Peace Center's intent to terminate the cooperation with FIFA on the Handshake for Peace initiative," FIFA wrote in a statement. "FIFA is reluctant to accept this unilateral approach on what is a joint initiative between the football community and the Nobel Peace Center (NPC). This action does not embody the spirit of fair play especially as it obstructs the promotion of the key values of peace-building and anti-discrimination."
QUICK KICKS
AS Roma owner James Pallotta has promised to bring in "four or five" new players this summer. (REPORT)
Johnny Heitinga is set to sign a one-year deal with Ajax Amsterdam. (REPORT)
Young German defender Matthias Ginter is prepared to trade Borussia Dortmund for Borussia Mönchengladbach after just one season in Dortmund. (REPORT)
Juventus is interested in signing Barcelona right back Marvin Montoya. (REPORT)
Liverpool will reportedly make an improved offer for Southampton full back Nathaniel Clyne. (REPORT)
A.J. DeLaGarza and Guam won their second match in a week, defeating India, 2-1, in World Cup qualifying. (REPORT)
———
What do you think of these reports? Anything stand out to you from Chuck Blazer's plea agreement? What did you think of Mexico's showing against Chile? Impressed with Bolivia's win over Ecuador?
Share your thoughts below.