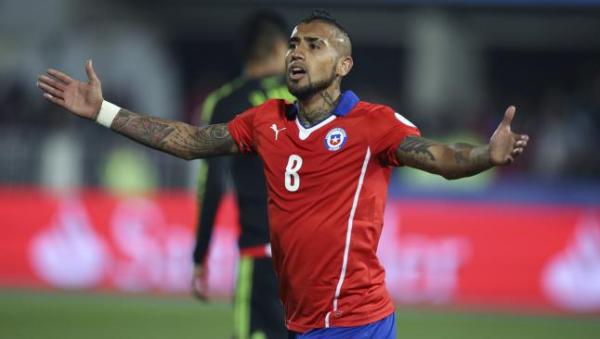 By RYAN TOLMICH
Despite allegedly committing a major off-the-field offense late Tuesday night, Chile midfielder Arturo Vidal's Copa America looks set to go on as planned.
Following a late-night accident that saw Vidal charged with drunk driving, the midfielder had his driver's license revoked in court on Wednesday. In addition, the Juventus star will also be required to appear at the the Chilean consulate in Milan on a monthly basis to provide a signature.
Vidal's incident will not effect his status with the Chilean national team, however, as head coach Jorge Sampaoli said Wednesday that the midfielder will not be excluded from the squad.
"We shouldn't exclude someone just because they made a mistake," Sampaoli said.
"The ruling tried to account for the fact that for us, he is a very valuable player for us," Sampaoli said. "He made a mistake that was not grounds for exclusion and we wanted to convince them with regard for what the national team needs."
Vidal crashed his Ferrari while driving with his wife on the outskirts of Santiago on Tuesday night. Vidal "was under the influence of alcohol," according to police colonel Ricardo Gonzalez.
Vidal has provided three goals, two from the penalty spot, through two games to help the Copa America hosts move into first place of Group A with four points and a better goal differential.
Chile returns to action on Friday against Bolivia in the nations' third and final group stage match-up.
—–
What do you think of Vidal's punishment? Should he be allowed to feature for Chile going forward?
Share your thoughts below.