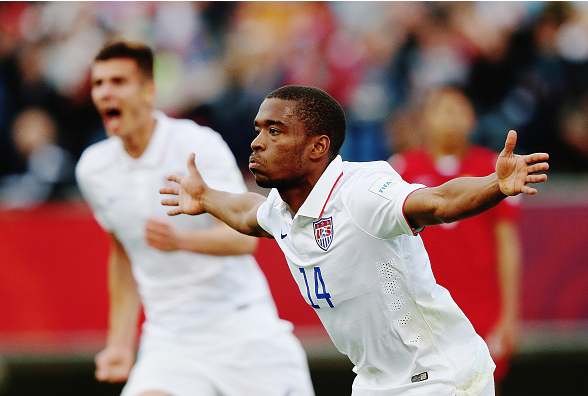 By FRANCO PANIZO
Maki Tall missed the U.S. Under-20 Men's National Team's rout of New Zealand because of an injury, and it's unclear right now when and if he will return to contribute again at this World Cup.
Fox Sports 1 reported on Tuesday that U.S. Soccer said Tall was held out of the Americans' 4-0 demolition of New Zealand due to a left foot injury. Tall sustained the knock in the U.S.'s tournament-opening win over Myanmar on Saturday, and his status for the rest of the World Cup has not yet been determined.
(UPDATE: U.S. Soccer confirmed on Tuesday evening that Tall would miss the rest of the World Cup with a broken left toe. No replacement to the roster will be called in.)
The 19-year-old Red Star FC striker picked up the injury early in the second half of the 2-1 victory against Myanmar, and was forced out of the Group A encounter in the 49th minute. Tall scored the equalizing goal for the U.S. in the first half of that match and had an overall impressive outing before being replaced by Bradford Jamieson.
Jamieson once again filled in for Tall in Tuesday's triumph over World Cup hosts New Zealand, lining up alongside fellow forward Rubio Rubin. The LA Galaxy youngster had the game-winning assist in the lopsided victory over the Kiwis, and helped set up another goal in a solid shift for U.S. head coach Tab Ramos.
Tall will have to recover quickly if he is to play in the group stage finale vs. Ukraine. The first-placed Americans, who are already guaranteed a place in the knockout rounds, take on the Ukraine on June 5.
What do you think about Tall's injury? Believe there's a chance he could return at some point in this World Cup? Should Jamieson continue to fill in for Tall in the meantime or should Ramos consider other options?
Share your thoughts below.