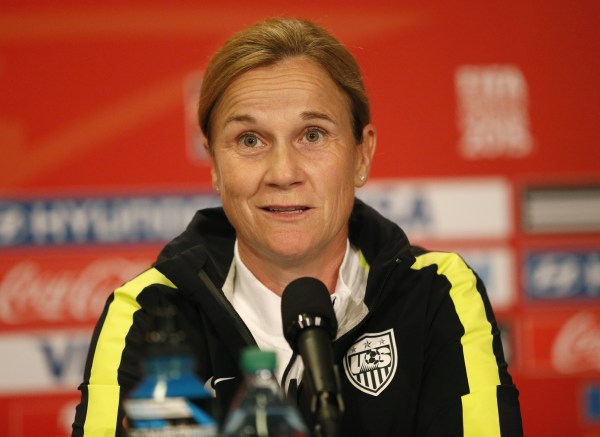 Photo by Michael Chow/USA Today Sports
By RYAN TOLMICH
Despite sputtering through a disappointing scoreless draw last time out, the U.S. Women's National Team's group stage fate remains fully in its own hands.
The USWNT takes on Nigeria Tuesday in the final group stage match in a contest that could see the U.S. lock up the top position in Group D, and a more favorable matchup to kick off the knockout stages.
Heading into Tuesday's clash, the USWNT sits on four points, one point ahead of second-place Australia. A USWNT victory would lock up the group, while a tie would see U.S. claim first if Australia and Sweden draw or Sweden beats Australia by one goal.
USWNT head coach Jill Ellis remains adamant that she is far from concerned with all of the scenarios or permutations that would see her team advance. Ellis only cares about leading her team to a victory. She knows that would take eliminate the need for any other scenarios to finish atop the World Cup's Group of Death.
"I want to go through, period. I want to play again and again and again," Ellis said. "Finishing top, again, I can't keep track of all of the options that we have out there because of the parity that you have in the groups, but psychologically, we would like to finish top just to feel good coming out of the group.
"Is it the be all and end all? No, our job is to advance but it would be great to finish top of the group. It's a good group."
"One of my scouts said that there's like 13 different scenarios. I'll be honest, I can't spin that," Ellis said. "I just focus on the performance of the players and getting them mentally ready and sharp. When you focus on what's in front of you, don't really look outside the big picture."
In front of the U.S. currently sits a Nigeria side that could leapfrog the USWNT with a multi-goal victory.
That result isn't out of the realm of possibility, as Nigeria represents an unfamiliar opponent to the current U.S. team. Ellis says that, heading into the tournament, facing Nigeria was a bit of a concern given the team's lack of film and scouting of their third and final opponents, although seeing Nigeria play twice at this WWC has given the U.S. an added lift.
What the U.S. has seen in those two games is a team that is willing to press, but is also quick to close space. Ellis understands that things may not be exactly the same as prior matches heading into Tuesday's clash, but if Nigeria are to press high, Ellis is looking for Sydney Leroux to be one of the players to challenge the Nigeria backline.
"I think Nigeria is obviously a very athletic team, so they give space but they close it very, very quickly," Ellis said. "Those types of games, for Sydney, Sydney loves those kinds of games where she gets to take on and loves to get into space."
In addition to Leroux, defender Ali Krieger says it will be important for the rest of the team to get forward as well. Krieger understands that, while her job remains to lock up Nigeria's attack, she may be called in to go forward, something she is more than willing to do.
"I'm a defender, first and foremost, so I'm going to obviously take care of that that first," Krieger said. "If the space is given, I'm going to go forward and try as much as I can, but I have to remember that I am a defender first so I have to do my job there.
"If spaces open up in the attack, I'm willing to take it because I love to get involved. I love to get crosses in, do combinations and just bring a different aspect to our game. I think it's important to add that aspect to this team for us to be successful."
The USWNT's success could also be boosted by the return of Alex Morgan, who Ellis says is expected to feature much more prominently as the forward becomes more and more fit.
However, Ellis insists that the biggest improvements don't need to come from the forward position in particular, despite the lack of goals in the team's prior game. Rather, Ellis is looking for the team as a unit to help fortify the midfield.
Having seen her central midfielders left out in the cold, Ellis says she hopes that the rest of the team can step up and lend help in the center of the park, helping make both the U.S. attack and defense a bit more dynamic.
"I think we're getting better, and that's the thing for me is that I have faith in these players and I think we will get better and better," Ellis said. "We met the other night and talked about it and at times we do leave them on an island. The thing about playing a 4-4-2 is that you don't want it to be static. You don't want it to be just straight lines.
"I think sometimes just having to revisit that and giving our central midfielders some help in terms of outlets for passes and also giving our central midfielders help in terms of defensively getting in transition. It's a little bit on everybody to make sure we provide outlets and options, especially when we deal with high-pressure and transition teams."
While Ellis continues to focus on improving her team game-in, game-out, the head coach says that she's still keeping her eye on the end goal. That end goal requires advancing on Tuesday, and while Ellis says that remaining top of the group is a priority, her sole hope for Tuesday night is to seal a spot in the knockout round.
If the U.S. were to claim a first place finish, the team's Round of 16 matchup would see the USWNT take on the third place finisher of Group B,E, or F on June 22 in Edmonton. Regardless of what ma or may not happen, Ellis' says he team is going to keep its eyes focused solely on Nigeria and let the chips fall where they may.