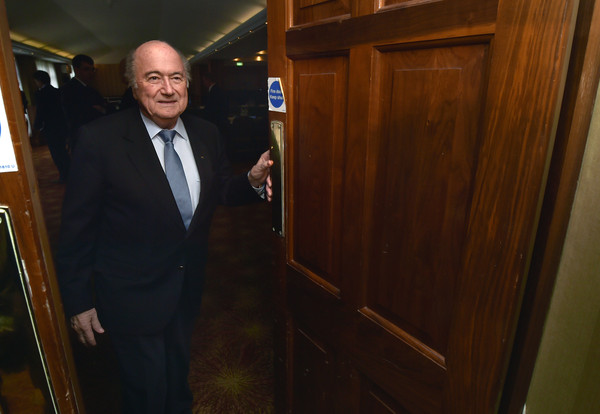 By RYAN TOLMICH
Once again speaking in riddles, Sepp Blatter's resignation is being clouded in uncertainty.
Blatter has sparked even more speculation about his future after quizzically denying his resignation to a Swiss newspaper. Blatter is expected to step down in the coming year after announcing that he'll "lay down his mandate" and not stand again for FIFA's presidency.
"I have not resigned," Blatter said. "I put my mandate in the hands of an extraordinary congress.
"Only those who know the past can understand the present and shape the future. Or in other words: the ball is round – but only those who come from outer space know the actual dimensions of our sport … For me personally, the museum is a labor of love. But do not get me wrong: I'm not ready for the museum nor for a waxwork yet."
Despite the comments, FIFA insist Blatter will not be resuming his role as president and that the resignation statement is a technicality in line with his original speech. The FIFA executive committee will meet on July 20 to decide a date for the extraordinary Congress which is set to help elect Blatter's replacement.
Here are some more news and notes to kick off your Friday morning:
MAINZ LOOKING TO SELL JARA AFTER COPA AMERICA CONTROVERSY
Gonzalo Jara's actions while on international duty could come back to bite him on the club level.
German club Mainz is looking to sell the Chile defender following his controversial actions at the Copa America. Jara was embroiled in controversy for an incident with Endinson Cavani that saw the Chile defender provoke and flop following a touch from the forward, whose retaliation got him sent off.
Although he escaped punishment in-game, Jara's actions are under investigation from CONMEBOL and have landed him in hot water with his club.
"We do not tolerate that," said Mainz sporting director Christian Heidel. "What makes me more angry than the prod, however, is what happens after. There is nothing I hate more than theatrics.
"He knows that if an offer comes in, he can go."
Jara joined Mainz just last year after previously featuring for Nottingham Forrest, West Brom and Brighton in England.
REAL MADRID TO BLOCK RAMOS TRANSFER TO MANCHESTER UNITED
Real Madrid is fighting back in an effort to keep their star centerback.
Sergio Ramos has been linked with a move away from the Spanish powerhouse, with Manchester United seen as the favorites to secure Ramos' services. The Premier League club has reportedly been denied on a £35 million ($55 million) offer, but is in the midst of preparing a larger offer.
However, Real Madrid is reportedly uninterested in a sale of the centerback, despite reports that Ramos is unhappy with his treatment by the club. In response, Madrid president Florentino Perez has intervened in an effort to get Ramos to sign a new deal to remain with the club.
QUICK KICKS
Luis Suarez has hit out at critics of Uruguay, citing the team's prior Copa America successes. (REPORT)
Liverpool continues to close in on Southampton's Nathaniel Clyne. (REPORT)
Petr Cech is reportedly set for an Arsenal medical after reports have linked the goalkeeper with a move to the club for weeks. (REPORT)
Brazilian officials have asked for CONMEBOL to investigate potential match-fixing in a 2013 Copa Libertadores game between Brazil's Corinthians and Argentina's Boca Juniors. (REPORT)
—
What do you think of Blatter's comments? What punishment do you expect for Jara? Expect Ramos to stay at Real Madrid?
Share your thoughts below.