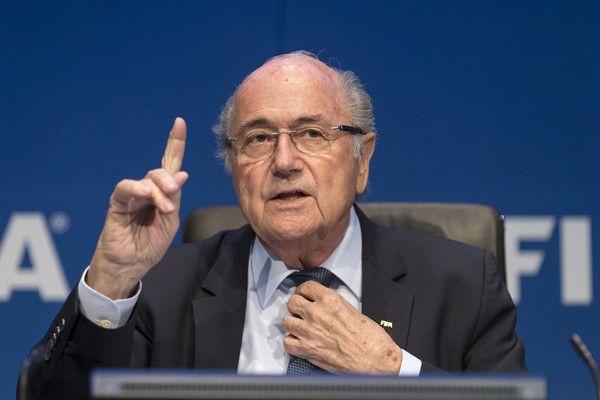 By DAN KARELL
Soccer's public enemy No. 1 is leaving the building.
In a stunning announcement, FIFA president Sepp Blatter revealed that he will step down, and called for the FIFA Executive Committee to schedule an extraordinary congress in the coming days to elect a new president.
"I have thoroughly considered my presidency and thought about my presidency and the last 40 years of my life," Blatter said at a hastily scheduled press conference in Zurich, Switzerland. "These years were closely related to FIFA and this wonderful sport of football. I appreciate and love FIFA more than anything else and only want to do to the best for football and FIFA, our institution."
The wild turn of events comes just four days after Blatter won a fifth-term as FIFA president in the face of a corruption scandal. Last Wednesday, Swiss authorities in conjunction with the U.S. Department of Justice arrested seven FIFA officials and later the DoJ unsealed an indictment against 14 individuals, nine of them FIFA officials.
In his parting words, Blatter called for reforms to FIFA's structure, many of which he fought against during his time in the association.
"The executive committee has to be looked into to and the members have to be elected by the FIFA Congress," Blatter suggested, adding later that Domenico Scala will implement these reforms. "We also need a limitation on mandates and terms of office, not only for the president but for all members of the executive committee."
FIFA has been under intense pressure in the last few days to answer questions regarding allegations of corruption by numerous current and former FIFA officials. Blatter, secretary general Jerome Valcke, and the association had deflected any allegations of wrongdoing but it seems that Blatter couldn't survive the latest round of pressure, which alleges that Valcke knew of, or should have known of, money transferred to CONCACAF that was used as part of a bribe.
According to multiple reports, there needs to be at least four months to prepare and plan for a FIFA extraordinary congress, so the soonest that the FIFA congress could meet is in October.
What do you think of this news? Did you ever think this day would come?
Share your thoughts below.