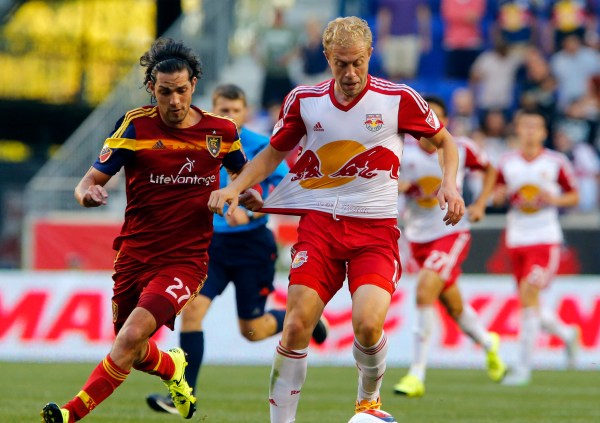 Photo by Noah K. Murray/USA TODAY Sports
By MATT STYPULKOSKI
HARRISON, N.J. – On Saturday, an early goal and a red card doomed the Red Bulls in a loss against the Vancouver Whitecaps. On Wednesday night, the Red Bulls ended up on the victorious end of the same script.
Mike Grella steered home a goal in the fourth minute and Real Salt Lake's Javier Morales and Demar Phillips both took red cards, as the Red Bulls picked up a 1-0 win at Red Bull Arena.
Wednesday night's victory broke a five-game winless streak for the Red Bulls, who hadn't taken three points in an MLS match since the first-ever Hudson River Derby against New York City FC on May 10.
"I thought that we were on top of the game from the start," Red Bulls head coach Jesse Marsch said. "Getting an early goal always helps. Overall I thought that we handled the game pretty well."
The Red Bulls dominated play in the opening moments, relentlessly attacking up the left wing. That pressure quickly paid off when left back Kemar Lawrence whipped in a fourth-minute cross that found Sean Davis six yards out. The 22-year-old midfielder, who filled in for the suspended Sacha Kljestan, hit a shot with his first touch and the back-post effort was turned in by Grella for the game's lone goal.
"They were coming from a long trip and had just played on Sunday," Grella said. "It was good to jump all over them, high press, we won a lot of balls up there and were able to get the goal right away."
From that point forward, the Red Bulls controlled the pace of play, finding dangerous passes while in possession and consistently finding space on the counterattack.
In the 40th minute, it was Felipe who found some of that space, as he took the ball down about 40 yards from goal and split the last two RSL defenders. That prompted Morales to dive in from behind in desperation, but the midfielder failed to get his foot on the ball and was sent off for denying a goal scoring opportunity.
Real Salt Lake's woes only grew worse in the 57th minute, when Phillips was given his marching orders. The RSL left back was shown red after diving into a tackle on Red Bulls right back Conor Lade with his studs showing.
The loss of two players was devastating to a Real Salt Lake attack that has already struggled to produce this season – RSL had scored just 15 goals in 16 matches entering Wednesday night.
In the 28th minute, Joao Plata managed RSL's best chance when he took down a ball from Morales on the counter, cut back inside the penalty area and put a shot on goal, but Luis Robles was equal to the task. Once reduced to nine men, however, that already toothless attack failed to muster anything dangerous.
The Red Bulls, on the other hand, had no problems finding chances on the attack throughout the evening, only to be denied by several heroic saves by Nick Rimando.
Just 10 minutes in, the U.S. Men's National Team goalkeeper sprinted off his line to stop Anatole Bertrand Abang, who had broken through the RSL backline. Rimando was called into action again in the 52nd minute, when he made a diving save to his left on Grella's powerfully hit volley. Thirteen minutes later, he was needed again as Lawrence darted up the flank and slid a cross in for Abang, who had a go from inside six yards but right into the well-positioned goalkeeper.
"I think it goes even beyond Nick Rimando," Davis said. "They had a solid backline. You know, we pinned them into their own 18 and they were difficult to break down."
For RSL, which was without midfield stalwart Kyle Beckerman due to yellow-card accumulation, the loss continues a tough stretch of form that has seen just four wins since the start of April and has put them in eighth place in the Western Conference.
In addition to three vital points in a packed Eastern Conference playoff race, the win provides the Red Bulls with some much-needed momentum ahead of their second rivalry clash with NYCFC on Sunday.
"I think (this win) is hugely important," Marsch said. "I think that mentally, (the losing streak) has been a test on us and I don't think that we've been phased too much by it, but we've been tested now. So hopefully we're through that stretch and now gathering confidence and getting all our guys back and physically ready to go."