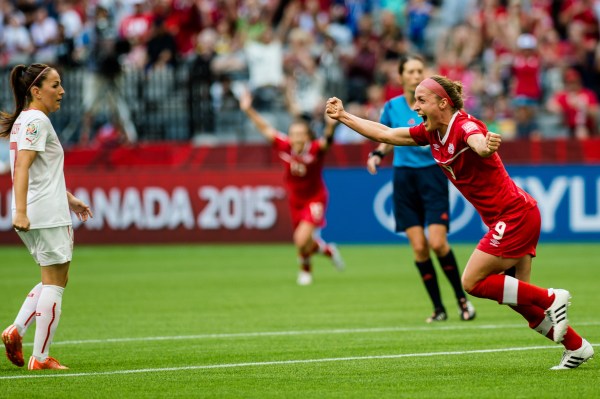 By COLE KELLOGG
In front of 53,855 passionate supporters Sunday, the 2015 FIFA Women's World Cup hosts removed a giant monkey from its back in a 1-0 win vs. Switzerland in the Round of 16.
The win came as Canada's first against European teams in the competition, having failed 10 times before.
The only goal of the end-to-end affair came from Josee Belanger, who slotted the winner past Gaelle Thalmann in the 52nd minute. Canadian all-star Christine Sinclair assisted the vital goal that put the team through to the next round of the tournament.
Switzerland looked calm with possession throughout the match, but it couldn't find a way through the sturdy Canadian defense, which has only allowed one goal all tournament.
Canada will face the winner of England vs. Norway on Saturday in the quarterfinals.
Here is a closer look at the rest of Sunday's results in the Women's World Cup:
BRAZIL BOWS OUT AFTER AUSTRALIA STRIKE
The Women's World Cup dealt its biggest shock of the tournament in Moncton, New Brunswick, as Marta and Brazil met their fate in the Round of 16, after Australia beat the South American powerhouse 1-0 on Sunday.
Substitute Kyah Simon was the hero, making a huge impact for Australia off the bench, slotting home a rebound from Lisa de Vanna's shot in the 80th minute. The goal was Simon's third of the tournament, with two others coming in the second group stage match against Nigeria.
Australia shockingly beat seventh-ranked Brazil, who had won its group with three wins while conceding zero goals before its encounter with Australia, who will play the winner of the Netherlands vs. Japan on Saturday in the quarterfinals.
DELIE BRACE PUTS FRANCE PAST SOUTH KOREA
Marie Delie delivered for France before South Korea even knew what hit them.
Her first for the French came in just the fourth minute. Delie finished after receiving the ball following some fantastic combination play from Camille Abily and Laure Boulleau.
Elodie Thomas put a second past South Korea in the eighth minute after some more stellar attacking play with Eugenie Le Sommer.
Minutes after the second half kicked off, Le Sommer was once again involved as Delie put home the final goal of the match. Sommer burst past three defenders before sliding a ball through to Delie, who fired past the South Korean goalkeeper for her brace.
France will play Germany on Friday in the quarterfinals.