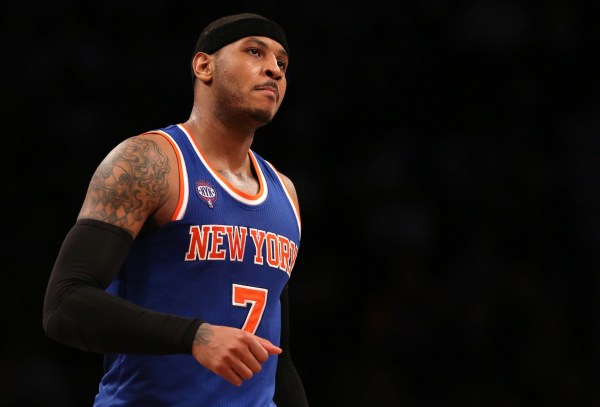 Photo by Adam Hunger/USA Today Sports
By RYAN TOLMICH
New York Knicks star Carmelo Anthony is officially making his way into soccer.
Anthony told ESPNFC Thursday that he will launch a new club, Puerto Rico FC, that will join the NASL beginning in the 2016 season. Anthony, who recently joined the New York Cosmos on the team's trip to Cuba, is of Puerto Rican descent and using his passion for soccer to give back to those on the island.
"My passion for soccer has always been there," Anthony told ESPN FC. "I just always kept it to myself and among my circle. Going to games, sneaking into games and just watching and being around the sport over the years. The more time I started spending in Puerto Rico over the past six, seven years I realized that there was kind of a void down there on my island.
"The island didn't really have anything that they could kind of call their own, that they could represent not just on the island but from a global standpoint."
The club will not be the first one based out of Puerto Rico. The Puerto Rico Islanders played in various leagues from 2002 until the team's 2012 demise.
Anthony's newly founded team will play out of the recently renovated Juan Ramon Loubriel Stadium, as 12,500-seat venue just 10 miles from the capital of San Juan.
"It was a perfect chance for me to not only revive that energy and that club, but to start something fresh," Anthony said. "I want to be that one team that represents Puerto Rico."
The addition of Puerto Rico FC means NASL will have 13 teams in 2016. Miami FC was also recently announced as an expansion club.
"For me, it's more about bringing that global awareness back to Puerto Rico," said Anthony. "Everyone in the world wants to visit Puerto Rico, and there's a lot of Puerto Ricans scattered throughout the world and in America alone. I want to connect to those pockets of Puerto Ricans in New York, Chicago, Philadelphia, Orlando. That's something I want to tap into."