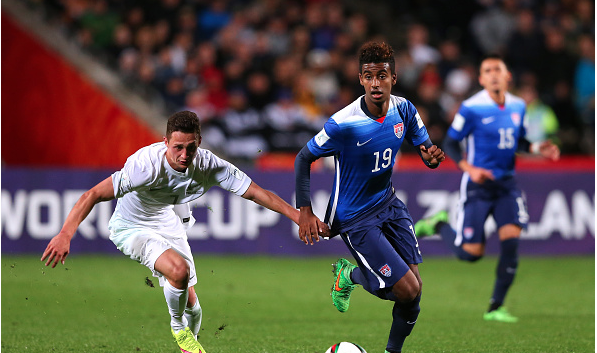 By RYAN TOLMICH
Despite being a relative newcomer to the U.S. Soccer scene, Gedio Zelalem is setting lofty goals for both himself and his national team in the wake of the Under-20 World Cup.
Zelalem, a member of the U.S. Under-20 Men's National Team that was defeated in penalty kicks by Serbia on Sunday, is proud of how the Americans performed in reaching the quarterfinals of such a difficult tournament. However, the Arsenal product also wants to see more from a U.S. program that has made significant strides in recent years but still has yet to win a major international competition.
"I think we've done well, but we also want to reach higher," Zelalem told FIFA.com. "We're not satisfied just getting to quarterfinals. We want to be reaching finals and winning tournaments."
While Zelalem is keeping the 2018 World Cup as a goal on the international level, the 18-year-old will is now turning his focus towards finding success on the club front.
Zelalem, who has made two first-team appearances for Arsenal to this point, is hoping to break into the Gunners' senior team this year. The midfielder has frequently drawn the praises of Arsenal manager Arsene Wenger in recent seasons, but Zelalem understands that it will be tough to break into the first team of a perennial Premier League contender.
In any case, Zelalem knows he needs to be playing this year.
"I'm going to go back for preseason and try to get into the first team and play some games. If I can do that, great. If not, I'll look to get out on loan somewhere," Zelalem said. "It's a dream come true to be at a club like Arsenal and I want to get into the first team this season, play minutes and start matches. I have high expectations of myself and if I was to be starting week in, week out, I wouldn't be surprised."
Zelalem hopes those high expectations help push him to the next level on both the club and international levels. Following a U-20 World Cup full of both highs and lows, Zelalem is looking to apply those lessons going forward in an effort to help both his game and country reach the next level.
"Being here with the boys has been great and it's definitely given me a taste for playing in these kind of events," Zelalem said. "I think there's a few guys in this squad, myself included, who could be in the senior squad for the next World Cup and that has to be our aim."