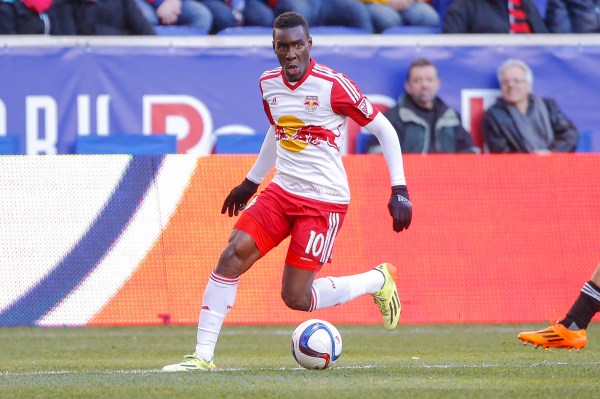 photo by Jim O'Connor/USA Today Sports
By FRANCO PANIZO
The New York Red Bulls might be without one their biggest offensive threats this weekend.
Lloyd Sam has been deemed a game-time decision for the Saturday showdown against the Vancouver Whitecaps at Red Bull Arena. Sam picked up groin and ankle injuries in the first half of Tuesday's U.S. Open Cup victory over the Atlanta Silverbacks, and it is the former injury that could prevent the right midfielder from making his first 13th start of the season.
"I think he'll probably be like a game-time decision," New York head coach Jesse Marsch told reporters on Thursday. "Maybe we can get him out here [Friday] moving around a little bit and kind of see where he's at, but I think it'll be a game-time decision."
Marsch added that the 30-year-old Sam's ankle is feeling fine, but that the groin is still what's mostly bothering Englishman right now. Sam sustained both injuries after scoring an early winner vs. the Silverbacks, and had to be replaced in the 24th minute.
If Sam is unavailable, the Red Bulls could turn to one of Dane Richards, Connor Lade, or Marius Obekop out wide. Sal Zizzo could also be an option if he is deemed healthy enough for Saturday.
This season, Sam has started in 12 of New York's 13 games. He has scored four goals and added three assists.
"We would hate to lose him because he's very important to our offense, but look at Dane today," said New York goalkeeper Luis Robles on Tuesday after the 3-0 win over the Silverbacks. "He had some chances, he was threatening, and now we just need him to find the back of the net."