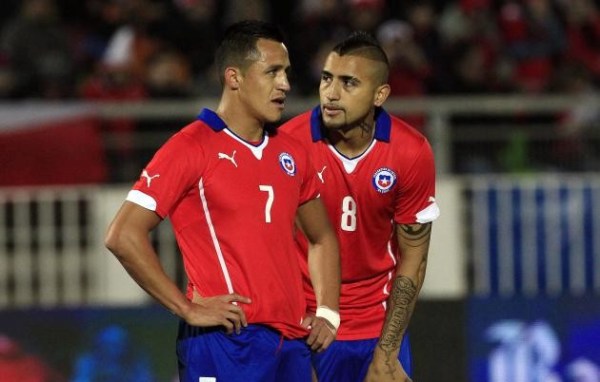 By RYAN TOLMICH
Arturo Vidal's ride through the Copa America has been full of controversy, prompting one of his teammates to state his belief that the midfielder has to earn back his teammates' trust on the field.
Alexis Sanchez says the he expects Vidal to put in extra effort following the controversy that saw the midfielder arrested for drunk driving Tuesday night.
"I told him 'Arturo, you better bust your a–,'" Sanchez said. "It's very hard what happened with him but as a group, the least we can do is put up with it as a team. There has been indiscipline, we were wrong, you are right about that. But we are a family and we are there to support him."
Sanchez went on to say that reports stating the team doesn't back Vidal's continued inclusion are not true, as the Arsenal forward says Chile continues to support their star midfielder.
"I hate it when people say things which are not true. All the players were with him," Sanchez said. "I hope that the people will be with him on Friday, like all his colleagues have been.
"The important thing is that Arturo, his wife and everyone else are well. The case of Arturo should now close and we can concentrate on the Copa America."
Here are some more news and notes to kick off your Friday morning:
PERU TOPS 10-MAN VENEZUELA
Peru has sent Group C of the Copa America into a bit of a frenzy.
Claudio Pizarro's second-half finish led the way as Peru topped Venezuela, 1-0, as all four of Group C's teams now sit level on three points heading into Sunday's final round of fixtures.
Pizarro's finish came in the 72nd minute and took full advantage of an earlier red card to Venezuela defender Amorebieta. The Peru forward found himself on the end of a misplaced ball from Venezuela's Tomas Rincon, and Pizarro made no mistake in snatching his side a deserved three points.
Group C's four teams are back in action Sunday as Venezuela takes on Brazil while Peru faces off with Colombia.
LIBERIA FA PRESIDENT SEEKS FIFA PRESIDENCY
With Sepp Blatter still potentially on course to step down as FIFA's president, the Liberian FA boss has thrown his hat into the ring in the race to be Blatter's successor.
Musa Bility has declared his intentions to run for FIFA's presidency, joining Brazilian legend Zico as those to publicly state their desires to assume the role. If Bility were to officially run, he would become the first African candidate to challenge for the presidency since Issa Hayatou lost to Blatter in 2002.
"Africa is the largest voting bloc in FIFA [with 54 members], and we must take the lead to bring football together," Bility said in an interview with the BBC. If Africa does not put up a candidate, it says a lot about us. It shows a sense of mediocrity, and that our only relevance is to vote and make leaders. I think that is not right.
"People know me to be bold, upright, outspoken, and highly opinionated," added Bility, who is also president of Liberia's Srimex oil and gas company. "I say it like it is. When it's not right, I don't back down, and that has gained me some respect."
Bility has run the Liberian FA since 2010, and was re-elected for a second term in 2014.
QUICK KICKS
Valencia centerback Nicholas Otamendi has hinted that he is expecting a transfer to Manchester United. (REPORT)
West Ham's Olympic Stadium has seen costs raise to over £700 million ($1.1 billion). (REPORT)
Ludogorets coach Bruno Ribeiro says that Chelsea will be loaning the club players due to his personal friendship with Jose Mourinho. (REPORT)
Tigres UANL has confirmed the additions of forwards Ikechukwu Uche and Andre-Pierre Gignac. (REPORT)
—
What do you think of Sanchez's comments? Who will emerge from Group C of the Copa America? Who do you see emerging in the race to become FIFA's president?
Share your thoughts below.