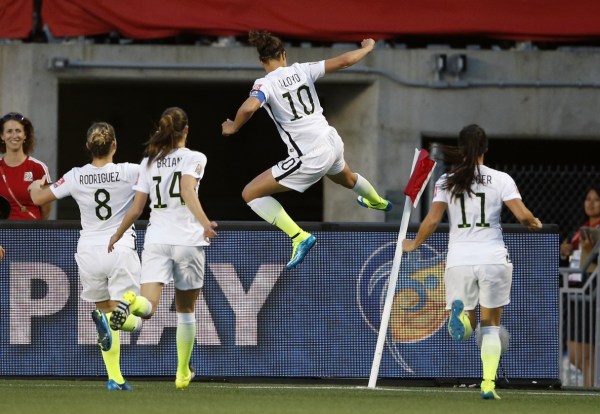 Photo Michael Chow/USA Today Sports
By RYAN TOLMICH
It may have taken a bit longer than the game dictated, but the U.S. Women's National Team found its breakthrough to earn a spot in the semifinals of the Women's World Cup.
In complete control throughout the game, the U.S. topped China, 1-0, on the back of a second-half Carli Lloyd finish in Friday night's Women's World Cup quarterfinal.
After a first half of complete domination, the U.S. finally got their breakthrough moments into the second half through Lloyd, who rose above with a header to give the USWNT the lead.
Having earned a set piece right in the center of the field, the U.S. played the ball short to Julie Johnston. The centerback unleashed a long ball from over 40 yards out that dropped right onto the head of Lloyd, who powered a header to the right corner to earn the U.S. a deserved goal.
The goal was a long time coming, as the U.S. proved dominant in the first half in what was certainly the team's best half of the World Cup so far.
Riding a high press that caused China all sorts of problems, the U.S. dominated possession throughout the opening 45 with most of it in the final third. At moments, China was forced to merely survive with 11 behind the ball int he face of the USWNT's relentless pursuit of the ball.
Starting Amy Rodriguez up top, the U.S. nearly got off to an ideal start through the newly-introduced forward only to see a golden opportunity pushed wide.
Joining Rodriguez as introductions to the lineup were Morgan Brian and Kelley O'Hara, the latter of which particularly played a big part in the team's attack throughout her 61 minutes. The duo replaced the suspended Megan Rapinoe and Lauren Holliday, both of whom were suspended due to yellow card accumulation.
However, the duo's suspension proved to be of little consequence, as the U.S. cruised to victory against an overmatched China.
With the victory, the Americans advance to the semifinals, where they will take on Germany Tuesday night in Montreal's Olympic Stadium. Germany defeated France in penalty kicks on Friday night to reach the semifinals.