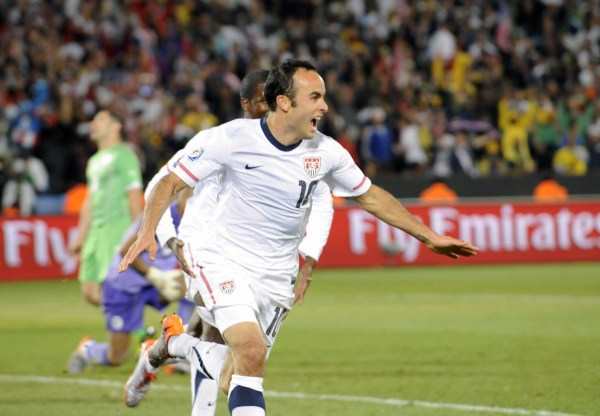 Photo by Jim Brown/USA Today Sports
By RYAN TOLMICH
Exactly five years ago, U.S. Soccer fans all over the country sat scared.
Nervous, sweating, nauseous, the dream looked to be dead, ending yet another World Cup in disappointment before the sport of soccer faded back to its place as the Big Four's little brother, not to utter a peep for four long years.
But then, in the dying moments of the U.S. Men's National Team's final group stage match against Algeria, Landon Donovan scored.
Donovan may no longer be an active member of the USMNT, but his 2010 World Cup goal against Algeria still resonates as much as any in the history of U.S. Soccer.
Tuesday marks the five-year anniversary of Donovan's now famous goal, but for many, it feels like just yesterday that the LA Galaxy star dashed into the box and smashed home a Clint Dempsey rebound. Riding Donovan's last minute finish, the U.S. survived the Algeria scare, moving on to the tournament's knockout stages.
However, Donovan's finish was much more important than that.
For many, that goal was a turning point, a spark that pushed the sport into something much more than it previously was. It served as a rallying cry, a moment, one that got even the most casual of soccer fans to stand up and admit that moments like Donovan's were something truly special.
Five years later, the game is still far from where many believe it needs to be, but it's impossible not to admit that things have changed in a major way since Donovan's darting run into the box.
The aftershocks have been felt ever since.
Donovan's league, Major League Soccer, has continued to see interest rise with five teams added to the fray and four more expected to join in the coming years. The European game has boomed, with the Premier League firmly entrenching itself as the Saturday morning ritual for the masses of sports fans looking to fix their competitive cravings.
However, at no point did the game's arrival feel more apparent than the 2014 World Cup, one that coincidentally took place sans-Donovan.
USMNT supporters traveled and convened in masses. Thousands gathered in public areas, bars and backyards, praying that just maybe a moment like Donovan's could once again push the U.S. to victory. Meanwhile, much further south, the USMNT's contingent of traveling fans were among the most vocal in the world, demonstrating the game's growth for all to see.
It's hard to imagine much of that happening without Donovan's moment, his spark. Without Donovan's finish, it's hard to envision the landscape of U.S. Soccer feeling the same way as it does at this very moment.
Five years later, Donovan's goal still reigns supreme. Widely recognized as the USMNT's best ever player, Donovan's contributions are countless, his records unmatched.
However, as monumental as Donovan's career may have been, his biggest impact came in a split second, just one touch; a touch that pushed U.S. Soccer into an ascendancy that continues even five years later.
—
What was your experience of Donovan's goal? How much has that finish changed your view of the game? How important do you think the goal was in the growth of soccer in the U.S.?
Share your thoughts below.