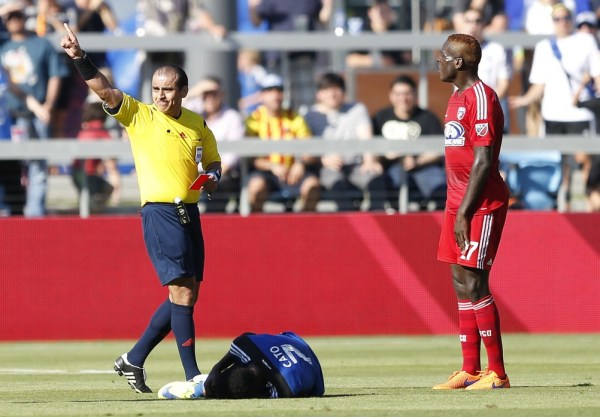 By IVES GALARCEP
Fans who made their way to Avaya Stadium on Sunday probably showed up hoping to see goals galore. What they saw instead was a red card showcase without a single goal to break up the monotony of the sending offs.
Referee Baldomero Toledo issued three total red cards, ranging from the absurdly incorrect to the clearcut red, as the Earthquakes and FC Dallas wound up settling for a 0-0 draw.
The weather was about the only good thing about Sunday's Western Conference showdown, with the two teams combining for as many total shots on goal (3) as there were red cards.
All three expulsions took place in the second half, starting with Mark Sherrod's ejection for kicking FC Dallas goalkeeper Dan Kennedy in the head. Replays showed that Sherrod was trying to jump over Kennedy to avoid contact after Kennedy had collected the ball, but Toledo decide the play was malicious enough to eject Sherrod, who was making his first start since recovering from ACL surgery.
FC Dallas enjoyed a man advantage for 18 minutes before Je-Vaughn Watson was sent off for apparently leaving his studs up on a challenge on San Jose's Cordell Cato. The play looked yellow card-worthy at best, but Toledo saw enough to leave the match 10 on 10.
The Earthquakes came close to finding a goal in the 84th minute when Chris Wondolowski headed a shot that went just wide, his second good chance of the day after having Kennedy deny him on a 33rd-minute shot.
The Earthquakes saw red again in the 87th minute when substitute J.J. Koval delivered a clear studs-up challenge that warranted a sending off.
The result leaves both teams still searching for wins as they both endure winless slides. The Earthquakes, winless in three, head into a bye week before traveling to Seattle to take on the Sounders on June 20. FC Dallas, winless in four, must take the same trip to Seattle to face the Sounders on June 13.
What did you think of the match? Blame Toledo for turning the game ugly, or was it already a forgettable affair even before the red cards? See either team snapping their winless streaks against Seattle?
Share your thoughts below.