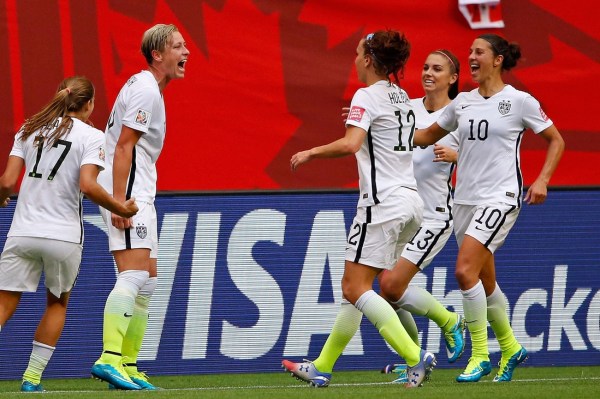 Photo by Michael Chow/USA TODAY Sports
By RYAN TOLMICH
After three grueling match-ups in what was dubbed the tournament's Group of Death, the U.S. Women's National Team is now fully aware that, from this point forward, it's do or die.
The USWNT is set to take on Colombia on Monday evening (8 pm ET, Fox Sports 1) in the Round of 16 of the 2015 Women's World Cup after successfully navigating its way to a first place in Group D. The knockout game will be played at Commonwealth Stadium in Edmonton.
For many, that group stage served as a good lead up to what the U.S. now faces. Despite sputtering in the attack throughout their first three games, the Americans find themselves battle-tested as they try to continue through the tournament.
Monday's match-up presents a whole new test, however, one that will be completely different than the rigorous group stage. Still, forward Abby Wambach expects the U.S.'s character to shine as the Americans try to maneuver through the win-or-go-home matches.
"At this point, every opponent and every game matters and the pressure gets higher," Wambach said. "The stakes are higher. You win or you go home. I'm pleased with the way that we performed in the group stage. Do we want to score more goals? Sure, but I think more goals are ahead of us.
"Colombia's team is a great team, but this is where character shines. Who are you in the face of win or go home?"
For the USWNT to avoid that short yet painfully long trip south of the Canadian border, the onus will have to lie on sprucing up a struggling attack. The Americans have just one goal in their past two games, and head coach Jill Ellis understands that the goal-scoring unit will need to be a bit more lively as the tournament wears on.
However, Ellis has full confidence in her team's ability to create goals, pointing to the team's chance creation in the group stage.
That, along with the return of a healthy Alex Morgan, Ellis believes will lend itself to more finishes.
"As long as we're winning, I'll take that," Ellis said. "We're creating chances in multiple different ways: set pieces, wide areas, central areas. I'd be concerned if we weren't creating chances, but no, I expect that things will happen for us.  I know that. I have confidence in the players we've selected. I have confidence in the players we have.
"This will be Alex's second game coming back into getting more minutes and trying to get her further along. I thought she had some great looks in the Nigeria game. I'm not concerned at the end of the day. We've scored more than our opponent, and at this level and with this competitive tournament, the margin will be smaller as you advance, for sure."
The margin for error will certainly be slim on Monday against a Colombia team that has impressed early in the tournament.
Having earned a 2-0 victory over a contender in France in the group stage, Colombia has shown to be a much improved version of the team the USWNT previously faced in the 2012 Olympics. Led by forward Lady Andrade, Colombia has embraced a technical yet methodical style, slowing the game down a bit before exploiting mistakes made by opposing defenses.
In Colombia, the U.S. will face a more patient and technical side than those of the group stages. However, it will also be a weakened side due to the absence of goalkeeper Sandra Sepulveda, who will be suspended due to yellow card accumulation.
Even so, the U.S. is focusing on maintaining its own style of play. The U.S. is ready for a technical match-up, but will attempt to remain on the ball while also bringing a bit of physicality.
In addition to the USWNT's hopes of winning the possession and physical battles, the Americans' experience might also be able to help lead the way in the mental battle. Having a group that has featured in countless big-game situations, the U.S. should be able to lean on previous experiences as it attempts to knock off Colombia and reach the quarterfinals.
"I think we came into this tournament with one goal, an this is the next step in our journey that we have to take. In that way, we know what's at stake," said midfielder Tobin Heath. "We don't have to talk about it, we can all feel it. We feel it in our preparation and our practices. We know how important this is and we know just how good we have to be in order to be successful. "