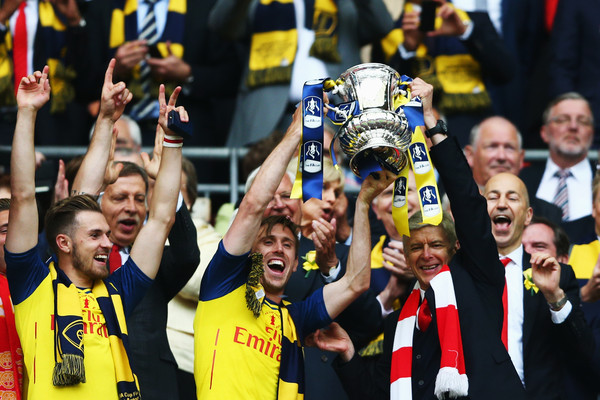 By AYDIN REYHAN
With the cup finals being played in England, Spain, Germany and France, the top leagues in Europe have officially ended their domestic play.
In England, Arsenal swarmed Aston Villa en route to the club's second straight FA Cup, while Barcelona utilized a dazzling Lionel Messi run to dash past Athletic Bilbao.
Both Wolfsburg and Paris Saint-Germain also claimed cup successes, while Serie A wrapped up with the league's final slate of games.
Here is a closer look at this past weekend's results from across Europe:

ENGLAND
For the second straight season, Arsenal have claimed the FA Cup.
The Gunners made it back-to-back FA Cup triumphs with a dominating, 4-0 victory over Aston Villa in Saturday's finale.
Theo Walcott kickstarted the goalscoring with a 40th minute finish, heading home off an Alexis Sanchez header to give Arsenal the lead going into halftime.
From there, the second half would prove to be all Arsenal, as Sanchez, Per Mertesacker and Olivier Giroud each supplied second half finishes to lead the Gunners to another FA Cup crown.
SPAIN
Barcelona won La Liga and went on to also hoist the Copa del Rey after downing Athletic Bilbao by a score of 3-1 in Saturday's final. The victory was headlined by a spectacular goal from Lionel Messi, who darted past the Bilbao defense on a weaving run from inside his own half to score the opener.
The Argentine, who also scored Barca's third was joined on the scoresheet by Neymar, who finished with a tap-in on a pass from Luis Suarez in the 36th minute
Messi added his finish in the 74th minute, while Iñaki Williams added a consolation for Bilbao five minutes later.
With the double secured, Barcelona has a chance to claim the treble Saturday in the Champions League final against Juventus.
GERMANY
Jurgen Klopp's tenure with Borussia Dortmund came to a disappointing end.
In the DFB-Pokal finale, BVB was defeated, 3-1, by Wolfsburg as Klopp's seven-year stay with the club came to an end.
Despite a fifth minute opener from Pierre-Emerick Aubamayeng, BVB surrendered the next three, as Luiz Gustavo, Kevin De Bruyne and Bas Dost each provided finishes between the 22nd and 38th minutes to seal victory for Wolfsburg.
ITALY
Juventus will head into the Champions League final after drawing their final Serie A match of the season, 2-2, against Hellas Verona.
The two Milan sides stepped up to close their respective seasons on high notes, as AC Milan thrashed Atalanta, 3-1, while Inter Milan beat Empoli, 4-3. The two Rome sides suffered opposite results, with Roma falling, 2-1, to Palermo, while Lazio knocked off Napoli, 4-2.
Here's a closer look at this past weekend's results in Serie A:
Juventus 2 – 2 Hellas Verona
AC Milan 3 – 1 Atalanta
Cagliari 4 – 3 Udinese
Palermo 2 – 1 Roma
Fiorentina 3 – 0 Chievo Verona
Inter Milan 4 – 3 Empoli
Napoli 2 – 4 Lazio
Sampdoria 2 – 2 Parma
Sassuolo 3 – 1 Genoa
Torino 5 – 0 Cesena
FRANCE
Facing off with second-division side Auxerre, Paris-Saint Germain did just enough to lift another trophy.
Champions of Ligue 1, PSG claimed a 1-0 victory over Auxerre to secure the Coupe de France.The Parisians were led by and 64th minute header from Edinson Cavani en route to becoming the first French team to complete a domestic treble.