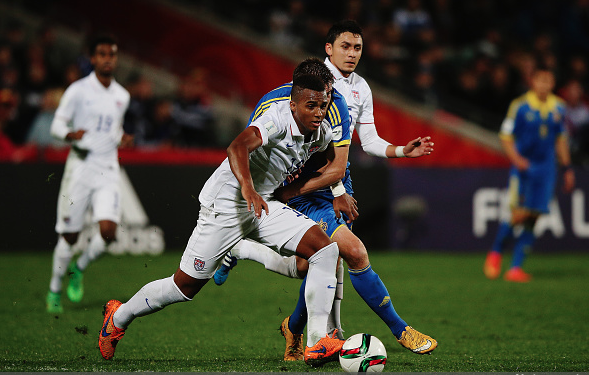 By COLE KELLOGG
The U.S. Under-20 Men's National Team will not be the only side looking to bounce back from a bad performance in its upcoming World Cup Round of 16 match.
The U.S. learned on Friday night that it will face Colombia on Wednesday (3:30 am ET) in the opening round of the knockout stages. The match will take place at Wellington Regional Stadium in Wellington, New Zealand, and came to be after the Colombians suffered a 3-1 loss to Portugal on Friday to finish in second place of Group C.
Colombia managed four points out of its three group stage matches, beating Qatar, 1-0, and tying Senegal, 1-1, before losing to undefeated Portugal.
The Colombians have scored three goals and allowed four so far in New Zealand. Chelsea's Joao Rodriguez, Alexis Zapata of Udinese, and Deportivo Cali's Santos Borre each have one goal apiece in the tournament.
Like Colombia, the U.S. will be ready to move past a poor group-finale result. The Americans suffered their first loss of the competition on Friday after falling to Ukraine, 3-0, and will be aiming to rebound so as to reach the quarterfinals.
What do you think of the U.S. playing Colombia in the Round of 16? Feeling good about the Americans' chances? Do you see this as a favorable match-up in terms of playing styles?
Share your thoughts below.