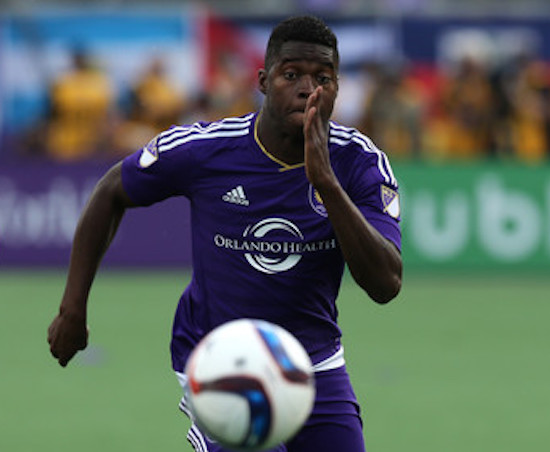 Photo by Alex Menendez/Getty Images
By MIKE GRAMAJO 
ORLANDO, Fla. — Carlos Rivas' debut in Major League Soccer didn't start on the right track, but after a consistent showing in his last four Orlando City games, the Colombian designated player is finally finding his form, according to Adrian Heath.
The 21-year-old winger played an integral part in Orlando City's 2-0 home win over the Colorado Rapids on Wednesday, coming on as a substitute and assisting the opening goal for Cyle Larin to help catapult the Lions to their second consecutive home victory this season.
"I don't want to sit here and say 'I told you so' but I told you so," Orlando City boss Adrian Heath said of Rivas' recent rise in form, which was also topic of criticism after failing to contribute in a major manner in the first half the season.
"It's a start for him. The kid has lots of qualities," Heath said. "You don't garner the interest that he had in him when he was down in [Deportivo] Cali, we talking about some of the biggest clubs in Europe watching him. He's had a difficult start, there's no two-ways about it. It's going to take him time. I was really pleased for him because he some of the stuff we know he could do."
Rivas' performance on Wednesday night was just bits of what he's been displaying in the last four games the Lions have competed in. It all formulated during Orlando City's 3-2 victory over the Chicago Fire on June 6 at Toyota Park when Rivas assisted Larin with the game-tying goal.
His rise in form continued to pick up consistency in a large manner after scoring his first hat-trick in Orlando City colors, converting three penalty kicks during a U.S. Open Cup matchup at Charleston on June 17.
Despite a disappointing team loss at Montreal on June 20, the Colombian cemented his form in front of the home fans when he displayed a super-sub performance on Wednesday night when he came on for an injured Brek Shea in the 39th minute.
"Tonight was the best whole performance he's put together all season," Shea spoke on Rivas' performance at left wing. "We all know he's unbelievable player, he showed what he can do, making runs, had the assist. When you come right in and have the assist, it gives you confidence as a player to carry on."
Although the former Deportivo Cali winger couldn't be reached to comment on his performance, Orlando City captain, Ricardo Kaka, spoke highly of the Colombian after setting up the opening goal for Larin.
"Carlos did a very good job," Kaka told reporters. "I can't say it's his goal, but he participated in 80 percent of the goal, Cyle did a great job but the whole action was Carlos. He played very good, he chose tonight better his actions, he's improving."
With Shea expected to see some time on the sidelines for an apparent groin injury, it's speculated that Rivas will be inserted into the left wing role heading into the summer portion of the season. Heath, however, continued to praise the winger, but emphasizes only time will tell what direction Rivas will follow.
"The goals help him," concluded Heath. "It's going to be time, he signed a five-year deal, it wasn't going to make or break the first four or five months of that five years, it's not going to make or break his career. If we have to wait another three months – four months – we're prepared to do that. The kid has a lot of good qualities."