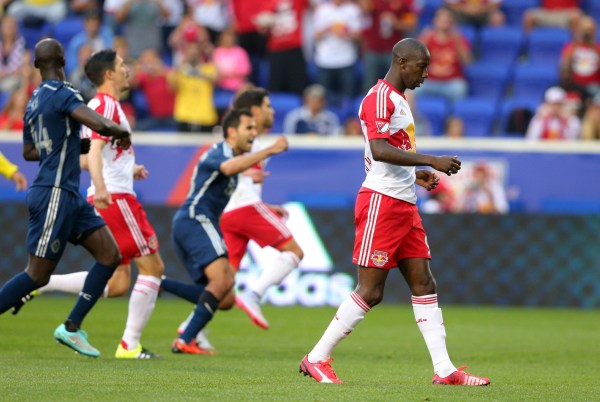 Photo by Brad Penner/USA Today Sports
By MATT STYPULKOSKI
It's been nearly six weeks since the New York Red Bulls picked up an MLS win. Last time out, against the Vancouver Whitecaps on Saturday, that streak was extended because of a series of miscues, including a red card, two saved penalties and several missed opportunities.
Considering their poor run of form, some teams may shy away from getting back on the field, preferring instead to focus on training and instituting the necessary fixes. The Red Bulls, however, are taking a different approach.
"I think we want to be on the field because we want to rectify the wrongs," Red Bulls goalkeeper Luis Robles said. "(Saturday) we made a couple wrong decisions, some wrong mistakes and Wednesday is another opportunity for us to change course, for us to right our course."
Wednesday sees a visit from Real Salt Lake (MLS Live, 7:30 p.m.), which has had a similarly tumultuous start to the season.
Usually a Western Conference stalwart, RSL has sputtered to an eighth-place standing in the table through 16 matches. Goals have been an issue for RSL, which has produced just 15 and been shut out seven times this season.
Though Claret and Cobalt are unbeaten in their last three matches across all competitions, cross-country trips in the middle of the week are never easy.
Likewise, the fixture should provide the Red Bulls  a decent chance to build momentum before making traveling across the Hudson River for a matchup with New York City FC – the victim of the Red Bulls's most recent MLS win – on Sunday. That opportunity has an anxious club raring to go.
"I think we've practiced enough," captain Dax McCarty said. "I think we've had plenty of time on the field together to get to know each other, we're not a new team anymore – this is almost halfway through the season. We know our tactics, we know the personnel we have and we believe in our system, we believe in the guys in this locker room.
"So, proving that on the field, that's the best tonic. That's the best way to go about getting the bad taste out of your mouth…I think it's good for us to get back on the field as soon as possible, get another Western Conference team and get back on the right track."
If the Red Bulls are going to take advantage of their opportunity, however, they'll have to do it without the services of midfielder Sacha Kljestan, who was sent off against the Whitecaps and subsequently suspended one match.
They'll also need Bradley Wright-Phillips, who became the first player in MLS history to miss two penalty kicks on Saturday, to put his goal-scoring woes behind him and regain the confidence that bubbled so freely last season.
"I can't wait," Wright-Phillips said. "I missed two penalties (Saturday). A lot of fans would have been on my back when I was walking around clapping off, but they were brilliant. I just want to get a win for those fans and for the team."
And if the Red Bulls – which currently sit tied on points for fifth in the Eastern Conference – are able to pull off a win Wednesday night, McCarty thinks it could well spark a bigger turnaround.
"It only takes one goal," McCarty said. "It only takes one goal for Brad to get going. It only takes one win for us to get back and take control of our own destiny."