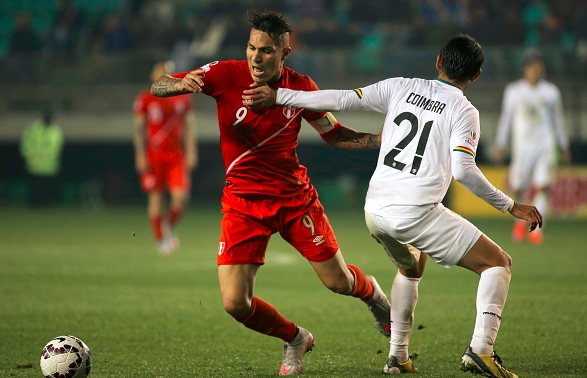 By AARON CRANFORD
Peru striker Paolo Guerrero won the Golden Boot in the 2011 Copa America, and he's on his way to claim the same prize in the 2015 edition, as he netted a hat-trick en route to a 3-1 win vs. Bolivia.
La Verde crashes out of the tournament after conceding 10 goals in four games, and while Marcelo Martins Moreno found the back of the net for Bolivia late on, the evening belonged to Guerrero and Peru.
Peru overpowered Bolivia on the night, with Bolivia's only real chances coming sporadically throughout the match. Peru maintained an offensive mindset for the full 90 minutes, and Guerrero was the benefactor, scoring twice in a short span during the first half and his third in the second.
Moreno was, at times, the only man forward for Bolivia, which spent a majority of the first half in its own half of the field due to the constant Peru pressure.
Bolivia goalkeeper Romel Quinonez was indecisive early in coming out on a corner kick, and the ball careened toward goal. Luckily for La Verde, defender Miguel Hurtado was at his post to clear the first chance off the line.
However, the waves of attack paid off. A beautiful cross from the far left met Guerrero, who positioned himself just in front of Cristian Coimbra and redirected the perfect ball past the Bolivia goalkeeper for the first of the night.
Then, in Peru's next attack, which came from a counter after a Bolivia free kick, Guerrero ran into and finished off a wonderful pass from Christian Cueva to bag his brace.
Alejandro Morales had a chance to get his side within one in the 27th minute, but his strike from outside the area just missed the top-right corner of the goal.
In the second half, Bolivia showed signs of promise going forward, but the opportunities were not taken advantage of.
Moreno had a header go on frame in the 56th minute, but his chances were limited throughout, and his second-half flick-on only went straight into the hands of goalkeeper Pedro Gallese, who had a comfortable evening.
Peru midfielder Jefferson Farfan found himself wide open on the right at the tail-end of the 64th minute, but his low strike went inches wide of the goal, much to the delight of Bolivia.
And Bolivia tried to crawl back into the game via a penalty claim in the 69th minute, but the protests went unheard, and Guerrero completed his hat-trick five minutes later. The goal ties the Peru netminder with Chile midfielder Arturo Vidal with the most in the tournament, 3, to date.
Bolivia would see a penalty call go their way in the 83rd minute, and Moreno powered in the chance, but after conceding eight goals in its last two matches, Bolivia is knocked out.
Peru will meet Chile in a semi-final match on Monday.