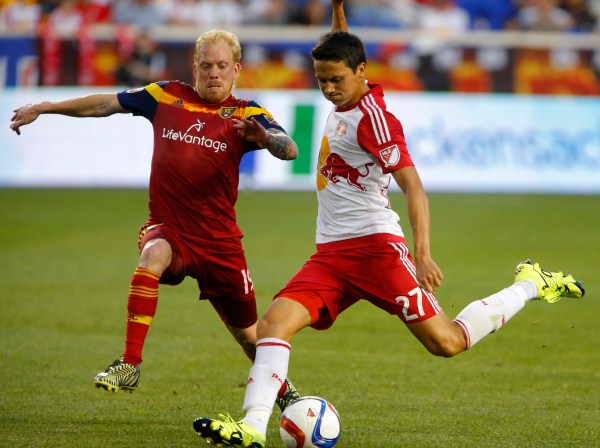 Photo by Noah K. Murray/USA TODAY Sports
By MATT STYPULKOSKI
HARRISON, N.J. – It's been quite an eight-day span for 22-year-old Sean Davis.
Last Tuesday, the Red Bulls' Homegrown midfielder scored his first professional goal in a 3-0 U.S. Open Cup win over the Atlanta Silverbacks. On Wednesday, he picked up an assist on the lone tally in a 1-0 win over Real Salt Lake.
"Kemar (Lawrence) makes a great run forward, I find myself in the box," Davis said, describing play that propelled the Red Bulls on Wednesday. "That's what I need to do in that role, get in the box and try to be dangerous.
"I let it come across my body, I don't hit it completely right but I try to get it to that back post and luckily (Mike) Grella was there to clean up."
That goal came just four minutes into Davis' fourth MLS appearance, which came as a result of Sacha Kljestan's red card suspension. While it's the moment that stands out the most from his first 90-minute performance, it was just one of the many that had head coach Jesse Marsch so pleased after the match.
"He has the type of skills and awareness that you could literally put him anywhere on the field and he would be successful," Marsch said.
At times, Marsch seemed eager to test that notion. While Davis started the day in Kljestan's normal central midfield role, he finished the night having seen far more than just the middle of the park.
"Sean, we played him at attacking-mid, left-mid, right-mid and left-back today," Marsch said. "He's very versatile, he's a very smart player, he's got great qualities. The reason why we can put him in so many spots is we trust him, we trust his intelligence."
For Davis, that trust is critical, as it serves to feed his confidence in the unfamiliar role of bouncing around the pitch.
"It's definitely something new to me," Davis said. "In college, I played the same position for a while, same with the academy. I've always played in that center-mid spot, a little deeper than I was today. Jesse shifting me around the field, it's new to me but it's something that I do take a lot of pride in. I'm really happy that he's sees that in me, and I think Jesse brings the best out of me."
In the process, Davis has also earned the trust of his teammates, who were more than happy with what they saw from the rookie on Wednesday night, this past week and throughout the season on the training pitch.
"He's a guy that's going to be here for a lot of years," Red Bulls captain Dax McCarty said. "He's a very talented guy, he's a very versatile guy and he's just humble and eager. He wants to learn and he wants to play anywhere he can get on the field. I think he's a kid that's got a really bright future."
"Sean is definitely one of those names that you're hoping is going to continue to grow and develop and be a lynchpin in this midfield for a long time," Red Bulls goalkeeper Luis Robles said. "You see the way he trains, you see his attitude – not only around the veteran players but in those really hard moments, those intense moments in practice – he's very cerebral, and he keeps his composure.
"That shows that, not only does he have the personality to be in the midfield for us, but he's someone that we can count on. I anticipate that with his development and his growth, that he's going to be there for a while."
Despite his breakout week and big potential, Davis is at heart still a youthful, recent college graduate. In fact, while he does have his own place by now, the Holmdel, N.J.-native still spends the night before games at home with his family and sleeps in his old bed.
"I think I'm one of the luckiest kids in the league," Davis said. "To be home with my family, to play for my hometown club, it means so much to me, and that gives me a boost every time I play. I take a lot of pride in that, and I'm really happy with how far I've come."