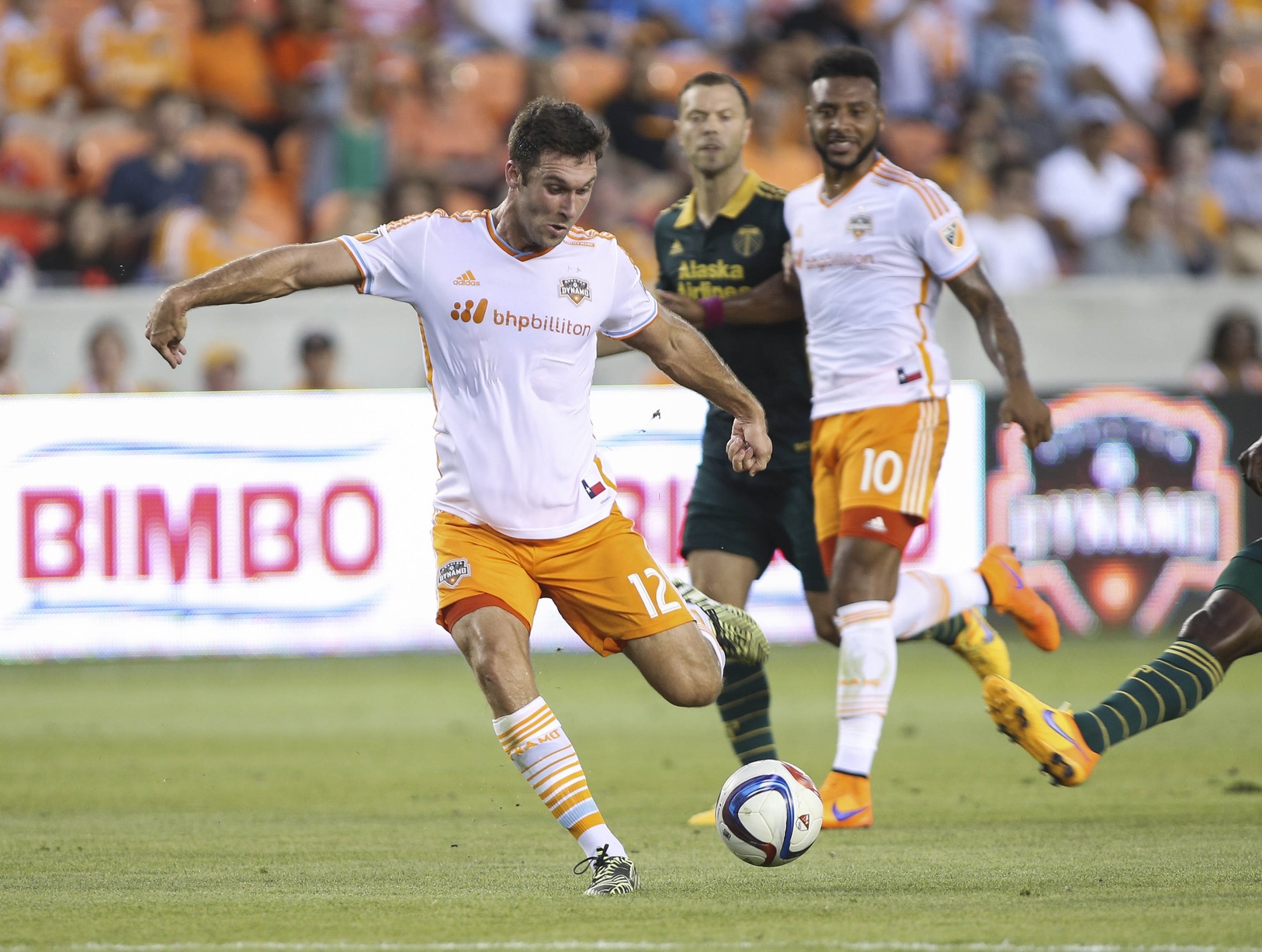 By COLE KELLOGG
New York had the better of the chances early on, but the Houston Dynamo out-classed the Red Bulls in the finishing department at BBVA Compass Stadium on Friday night.
Two goals and an assist from Will Bruin and a goal and assist from Oscar Boniek Garcia fired the Dynamo to a 4-2 win at home over the Red Bulls.
Bradley Wright-Phillips almost put the Red Bulls up in the eighth minute after a long ball from Sacha Kljestan put him through on goal, but David Horst was able to save Houston and clear the ball before it reached the goal line.
It was Wright-Phillips in the center of the action again in the 42nd minute, as he played a ball through to Mike Grella for the opening goal of the match. Grella beat his defender inside and shot past Tyler Deric at the far post to put his team 1-0 up.
In first-half stoppage time, a well-struck Kljestan freekick forced Deric into a quality save to keep his team in the match.
In the 59th minute, Bruin had his first contribution on the night. Bruin slotted the ball out to the right side of the box to Boniek-Garcia, whose ensuing shot was deflected by New York center back Karl Ouimette before floating over goalkeeper Luis Robles.
Houston got a second off of a corner kick in the 72nd minute. Ricardo Clark put away a Boniek Garcia corner kick by finding it with an outstretched leg at the back post. The finish came shortly after Clark had controversially had another set-piece goal disallowed.
New York similarly had seen a goal off a set piece questionably called back in the first half. Mike Grella fired a corner played low into the back of the net, but the whistle was blown and it did not count.
The Dynamo weren't done just yet. A spectacular Bruin solo run gave Houston a third goal in the 80th minute. Bruin put the ball in the upper 90 after out-hustling New York's Dax McCarty.
The Red Bulls got on the board again to make the score 3-2 in the 90th minute off of a close-range header from substitute Anatole Abang.
One goal was left to come, though, as Bruin finished in style with hist left foot past Robles in the 93rd minute.