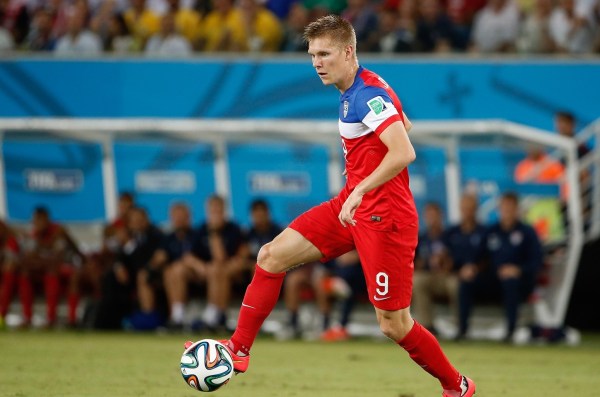 Photo by Winslow Townson/USA TODAY Sports
By RYAN TOLMICH
Aron Johannsson has his eyes set on Major League Soccer, and he's hoping to make the move sooner rather than later.
The U.S. Men's National Team forward told ESPN that he hopes to play in MLS "at the peak of my career". The 24-year-old forward, who has three goals in 10 international appearances for the USMNT, currently features for Dutch club AZ Alkmaar and has spent his entire career abroad.
"Most definitely," Johannsson said when asked if he hopes to play in MLS. "I've said it a lot of times. I hope just the opportunity comes. I want to, when I'm at the peak of my career, then I want to be playing in the MLS, because I don't want to go there when I'm getting too old and the expectations are too much and I can't handle it.
"So when I'm playing at my best level, I want to be able to play in the U.S. and show people how good I am over there."
A member of the World Cup roster last summer, Johannsson is currently preparing to join the USMNT for the upcoming Gold Cup, which begins on July 7.
Johannnsson struggled with injuries to start the 2014-15 season for AZ, but finished strong with four goals in five games to help the club reach the Europa League. Overall, the forward has scored 29 goals in 60 games for AZ while also previously featuring for Denmark's Aarhus Gymnastikforening and Iceland's Fjölnir.
How would Johannsson fare in MLS? What teams do you think could use the USMNT forward?
Share your thoughts below.