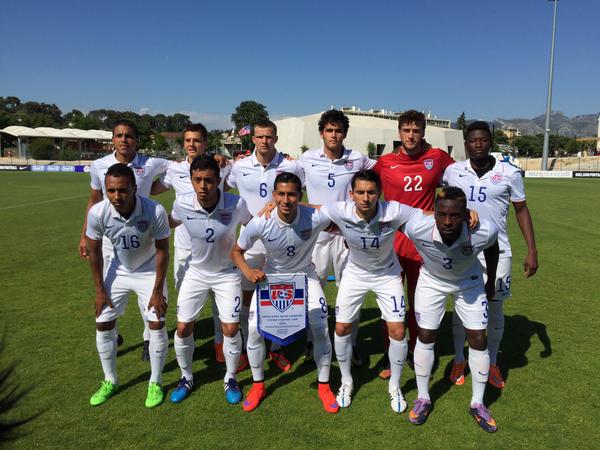 By RYAN TOLMICH
Despite making eight changes to the lineup, it was a familiar face that led the way for the U.S. Under-23 Men's National Team in what will likely be their final game of the Toulon Tournament.
Julian Green provided the lone goal for the U.S., leading the way in a 1-0 victory over Qatar in the Americans' final group stage game. Despite the victory, the U.S. appears to be on the outside looking in when it comes to claiming a spot in the tournament's third-place match.
The U.S. got off to a fast start through Green, who opened the scoring with a familiar-looking volley in just the eighth minute.
After stealing the ball on the right sideline, Alonso Hernandez darted down the right sideline before centering a looped cross to Green. The 19-year-old winger proceeded to volley a shot first time in a similar fashion to his World Cup finish, giving the U.S. the early 1-0 lead.
Green stayed active throughout the first half, proving to be the focal point of the U.S. attack. The Bayern Munich product continued to be a menace throughout the opening 40 minutes, with his best chance at a second goal coming on a 17th-minute curler from outside of the box.
Defensively, the U.S., and goalkeeper Tyler Miller, remained largely untested due to the dominance of the midfield unit. The biggest harm to the U.S. backline proved to be the injury bug, with Juan Pablo Ocegueda leaving early due to injury while Sam Strong was forced to depart after being bloodied by a stray elbow.
The second half proved to be more of the same for the U.S., with the introductions of Jordan Morris and Jerome Kiesewetter affording the U.S. a few decent looks throughout the second stanza.
That would not yield any finishes, however, as the U.S. were forced to settle for just a one–goal victory, likely not enough for advancement due to the team's goal differential.
With the victory, the U.S. finishes the group stage with six points in four games and an even goal differential. As a result, the U.S. will now need to rely on the help of France to help clear the way of the Netherlands and Costa Rica en route to a spot in the third-place game.
As things stand, Costa Rica sits on three points through two games, while the Netherlands equals the U.S. tally of six with a plus-three goal differential.
France and Costa Rica are set to collide on Tuesday afternoon. The group stage then rounds out on Thursday, as Costa Rica takes on Qatar and the Netherlands faces group leaders France.