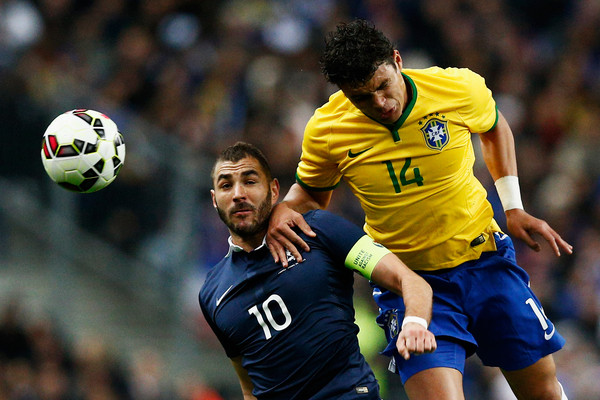 By DAN KARELL
Brazil's captain and leader at the 2014 World Cup will likely start from the bench in the 2015 Copa America.
According to reports out of Brazil, ahead of a key warm-up friendly match against Mexico, Brazilian coach Dunga tested out a centerback pairing of Miranda and David Luiz, with no room for captain Thiago Silva. Miranda, of Atletico Madrid, just missed out on the World Cup last year but he has played eight times under Dunga since the World Cup in various friendly matches. Meanwhile, due to injuries, Silva has played just five times, including one appearance off the bench.
The decision is a surprising one, as Silva kept the Brazilian defense organized at the World Cup while he was on the field. Silva missed the infamous 7-1 defeat to Germany due to yellow card accumulation, and with Luiz leading the defensive line, the Selecao crumbled.
Here are some more stories from around the world of soccer:
ELCHE RELEGATED FOR UNPAID DEBTS AND TAXES
In an unprecedented move, La Liga have relegated a club for administrative reasons, as opposed to the club's play on the field.
La Liga announced on Friday that a league judge had relegated Elche due to unpaid taxes to the State Tax Administration Agency (AEAT). Elche finished last season in 13th place, but La Liga came to their decision due to prior indiscretions to the tax authorities. Elche was also fined €180,303.63 by La Liga.
Following the ruling issued by the judge appointed to look into the case, the Social Discipline Judge has agreed to impose upon Elche CF the sanction of relegation from La Liga in view of the recidivism in the case, given that the club had been sanctioned both last season and this season as a result of serious infractions committed," A La Liga statement read. "For this purpose, the ruling states that, at present, Elche CF has liquid, overdue, and payable debt owed to the State Tax Administration Agency (AEAT. This debt that has not been paid, deferred, or secured, as shown by the State Tax Administration Agency."
In Elche's place, it's expected that Eibar will remain in La Liga, after they finished in 18th place this past season.
LETTER REVEALS SOUTH AFRICA LOC APPROVED BRIBE TRANSFER
Another incriminating letter has come to light showing that the South African Local Organizing Committee for the 2010 World Cup approved and asked for FIFA to transfer funds meant for them to CONCACAF and Jack Warner as part of an alleged bribe.
The Mail and Guardian of South Africa reports that South Africa World Cup CEO Danny Jordaan, who is currently the South Africa FA president, wrote to FIFA secretary general Jerome Valcke that South Africa had agreed to a $10 million payment to the non-existent FIFA Diaspora Legacy Program.
However, since South Africa was facing financial difficulties, Jordaan requested to Valcke that the $10 million come out of FIFA funds meant for the LOC to move to CONCACAF.
FIFA and Valcke have repeatedly stated that they had no knowledge of this money transfer, but this letter seems to show that Jordaan and Valcke worked together as part of it. FIFA have blamed the money transfer on the late Julio Grondona and the disgraced former FIFA vice president Jack Warner.
PAST CHAMPION ARGENTINA ELIMINATED FROM U-20 WORLD CUP
A team that was expected to contend for the title has been eliminated via knock out after just three games.
A scoreless draw against Austria U-20 condemned Argentina U-20 to an early exit, after the Albicelestes drew twice and lost to Ghana in the group stage. Argentina finished outside of the top four third-place teams to be able to advance to the next round.
We don't deserve to be out of the World Cup at this stage," Argentina coach Humberto Grondona told FIFA's website. "We expected a lot of ourselves and came to New Zealand with high hopes. We were definitely aiming to achieve more than we delivered in the end. We gave it our all today but the ball just didn't want to go into the back to the net. Now we've got to hope for a miracle."
Argentina are six-time champions of the competition, but in the last eight years, they've missed the U-20 World Cup twice, in 2011 they were knocked out in the quarterfinals, and now in 2015 they've exited in the group stage.
Elsewhere at the U-20 World Cup, Ghana defeated Panama, 1-0, New Zealand defeated Myanmar, 5-0, and the USA fell to Ukraine, 3-0.
QUICK KICKS
Real Madrid has confirmed that they've bought back Casemiro after Porto exercised their option on the Brazilian midfielder. (REPORT)
Guangzhou Evergrande have replaced Fabio Cannavaro with former Brazilian National Team coach Luiz Felipe Scolari. (REPORT)
Former France coach Raymond Domenech expressed his shock that the Republic of Ireland FA traded a possibility of going to the World Cup for a €5 million payment. (REPORT)
Unai Emery has reportedly rejected an offer from West Ham United. (REPORT)
Real Betis are interested in signing out-of-contract midfielder Rafael Van der Vaart. (REPORT)
———-
What do you think of these reports? Surprised to see Thiago Silva relegated to the bench? What do you think of Elche's relegation? Do you see Jordaan being indicted?
Share your thoughts below.