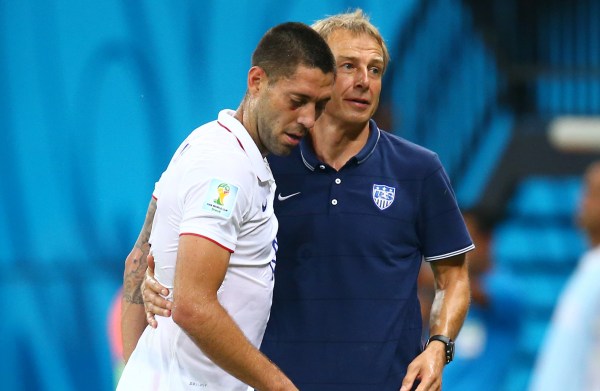 photo by Mark J. Rebilas/USA Today Sports
By FRANCO PANIZO
MLS has already punished Clint Dempsey. The U.S. Open Cup Adjudication and Discipline Panel might, too.
Jurgen Klinsmann apparently does not see the need to add to that with a sanction of his own.
Dempsey was the subject of much conversation last week after he took a notebook out of a match official's pocket and tore it up in the Seattle Sounders' U.S. Open Cup loss to the rival Portland Timbers. The 32-year-old attacker was immediately sent off for his actions, and was handed a three-match suspension from MLS later in the week.
While a U.S. Open Cup committee will decide in the coming days whether or not to further discipline Dempsey, Klinsmann seems to be taking a more lenient approach. The U.S. Men's National Team head coach plans to soon have a chat with Dempsey about the incident, but Klinsmann sounds ready to move on from it as the start of the CONCACAF Gold Cup draws near.
"It's something that nobody wants to see. It's a mistake, and mistakes happen," said Klinsmann, who learned of what had happened while on the internet in Europe. "Obviously when he comes in next week to Nashville in preparation for our friendly game with Guatemala, we'll sit down and talk through that and we'll go from there."
Dempsey has served as U.S. captain in the past, but it is unknown if he will again fill that role during next month's Gold Cup.
Klinsmann has iterated time and again during his tenure as U.S. manager that players need to be consummate, 24/7 professionals who are responsible for their actions on and off the field. Still, Klinsmann understands that frustrations can boil over in games.
"It's something that nobody wants to go through," said Klinsmann. "Nobody wants to get red carded. Nobody wants to get suspended and be in discussion by the fans and the media for a mistake you make. But on the other hand, it's part of the game, too. We'll take a little bit of a step back and we'll discuss it in person in a relaxed way and go from there. "
Klinsmann, Dempsey, and the rest of the U.S. will gear up for their CONCACAF Gold Cup title defense next week. The Americans will first take on Guatemala in a friendly at LP Field on July 3 before beginning tournament play four days later against Honduras.
—–
What do you think about Klinsmann's comments regarding Dempsey's referee fiasco? Do you think Dempsey will be the USMNT captain during the Gold Cup? If he's not, who will be?
Share your thoughts below.