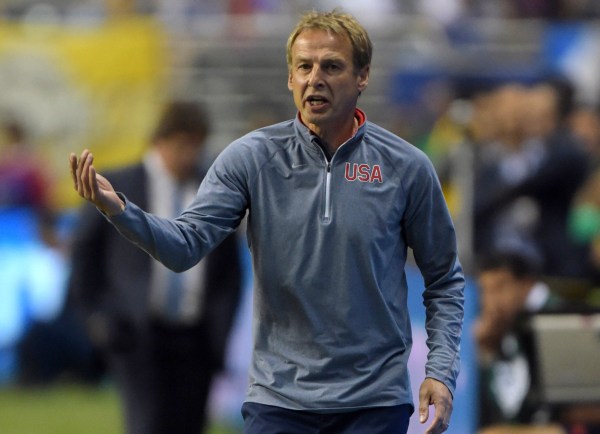 By FRANCO PANIZO
The time to experiment and introduce new talent into the U.S. Men's National Team is not over. It has just been put on pause.
The U.S. Men's National Team is set to defend its CONCACAF Gold Cup title in two weeks, and head coach Jurgen Klinsmann on Tuesday named a veteran-laden, 23-man squad that includes 17 players that were at the 2014 World Cup in Brazil.
Klinsmann had long stressed that he would bring the best team available to the regional tournament, but some fans and observers were still taken by surprise to see so few promising youngsters on the squad. The U.S. head coach had introduced a number of talented prospects into the team since the end of last summer's World Cup, and even the majority of them that found ways to make an impact in recent friendlies were left off.
Klinsmann instead went with a more seasoned group, one that surprisingly includes the likes of Brad Davis and Brad Evans but that the U.S. head coach believes will give his side the best shot at winning the CONCACAF competition and securing automatic entry into the 2017 Confederations Cup.
"Going into a Gold Cup, especially in our region here, experience means a lot," said Klinsmann. "You need players that stay calm in very emotional and very difficult and very tough battles. It can get nasty, things might not go your way in some moments, so you have to stay cool and you have to always be on top of things.
"I think the experience that players like Brad Guzan, Michael Bradley, Clint Dempsey, Chris Wondolowski, Nick Rimando have – just to name a few of them – those guys bring the experience with them to stay calm and get the job done. The Gold Cup really is about getting the job done and winning it and qualifying us for the Confederations Cup in Russia in 2017. That's why it's really crucial for us to have players on the roster that have tremendous experience."
The admitted "tricky part" for Klinsmann is that this year's Gold Cup is not being played in June, as is customary, but rather in July. As a result, Klinsmann now has a bevy of European- and Mexican-based players who are coming off vacations instead of their seasons, and has to find a way to round them into peak form and fitness.
To help mitigate how much they lost in terms of game-shape and sharpness over the break, Klinsmann gave his foreign-based players training and work out plans. If the Americans followed them, there should not be too big of a drop-off in their levels.
Still, the U.S. manager is now focusing on building them up during the week that he has them prior to the start of the Gold Cup on July 7. Klinsmann even has a friendly against Guatemala scheduled four days earlier to help his players get back to their best ahead of Group A games against Honduras, Haiti, and Panama.
"We'll take it from there in Nashville in preparation for the friendly with Guatemala, and get them one step at a time into the Gold Cup because we want to have the strongest team possible with us," said Klinsmann. "Our biggest rival Mexico will come with their strongest group also with European-based players, so we want to meet them face to face and make sure that they stay behind us.
"I'm sure our players were conscientious in their vacation periods. They are conscious that there is a lot at stake and they're going to be well prepared."
If they aren't, Klinsmann – like the other CONCACAF coaches – has the luxury of making as many as six changes to his roster after the group stage. Klinsmann took advantage of that rule two years ago when the Americans went unbeaten en route to claiming the 2013 Gold Cup, so he is fully aware of the importance of that option.
How many changes Klinsmann ultimately makes, if any, will be up to the 23 players that he selected on Tuesday. Strong performances all around through the group games and a clean bill of health could see the entire unit stick together for the knock-out rounds, and Klinsmann plans to stress that message to the Americans.
"It's also important to tell the initial group, 'Hey, you're in the driver's seat here, you set the tone,'" said Klinsmann. "Then depending on what happens – if it's suspensions, if it's, god forbid, injuries or whatever – we have the chance to make high-quality subs. We will definitely have that in the back of our minds.
"But first and foremost comes the group stage, and that is a very difficult group that we have – as I mentioned with Panama, Honduras, and Haiti – so first we have to go through there and then we can think about maybe making some changes after the group phase."
Regardless of the amount of changes that are made to the squad, Klinsmann is planning to count on all of his players' experiences in order to successfully navigate through the Gold Cup. Lifting the trophy at the end of the month is the goal for the Americans, and Klinsmann is plenty confident that this bunch has what it takes to accomplish that goal.
"We believe we have a very, very strong group that can win this prestigious tournament," said Klinsmann.